23 October 2008 Edition
Government attacks on education must end - Doherty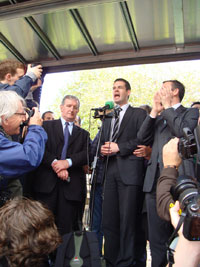 SENATOR Pearse Doherty, Sinn Féin's Education Spokesperson addressed a Union of Students in Ireland (USI) demonstration outside Leinster House on Wednesday, held to protest at proposals by the Education Minister Batt O' Keeffe to reintroduce third level tuition fees.
Doherty said that education had been hit badly with an array of cuts, increases in primary school class sizes, cuts in supports for pupils from disadvantaged areas and a massive hike in third level registration fees.
"Having failed to win public support over the summer for the reintroduction of third level fees government's plan B is clearly to over time increase registration fees to the point that they will effectively equal third level fees.
He said the government had not only failed in its commitment to deliver reduced class sizes but astonishingly had now chosen to increase them in Budget 2009. "Nearly a quarter of all pupils remain in super sized classes of 30-plus", he said.
Doherty said equitable access to high standard education from the very start of the school cycle is the foundation upon which the economy is built. That Fianna Fáil with the support of the Green Party continues to employ such disastrous policy decisions to this area is a massive issue of concern for families and also importantly the business sector of the future."