23 October 2008 Edition
Ballesty calls for action on Lucan drug dens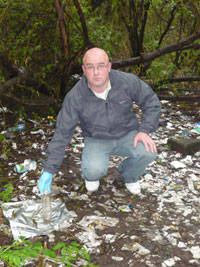 BY ELLA O'DWYER
A PUBLIC PARK where children play that is being used by drugs users and littered with discarded syringes should be cleaned up by South Dublin County Council as a matter of urgency because the Garda have failed to act, a Sinn Féin councillor has said.
Lucan Sinn Féin representative Robert Ballesty has been approached by parents concerned about drug abuse in Ballyowen Park, Lucan. Ballesty went to the park to find the park strewn with drug paraphernalia – needles, syringes and tinfoil.
"Myself and another cumann member went to the park to have a look. We saw five or six areas that the addicts were using to inject. They even used a tent belonging to a homeless man to shoot up.
"We approached gardaí on the matter but they've done nothing about it. There are young children playing in the undergrowth in the park. The gardaí say it's the responsibility of the council."
By Monday evening of this week, no clean-up had been carried out.
Ballesty told An Phoblacht:
"I was in the park last Sunday and there were about 80 to a hundred children playing in the park. The needles and materials were still there. We approached the local sergeant in Ronanstown Garda station to file a complaint but we heard nothing back."
He added:
"Ballyowen is actually a nice place. I live right behind the park but the scourge of drugs is everywhere. We want the undergrowth cleared away. Basically, the council-owned park has been left overgrown. We find it totally unacceptable. The Sun, the Lucan Echo and the Liffey Champion have all covered the issue and still nothing has been done."
DIAL TO STOP DEALING
Robert Ballesty said he welcomed the recent announcement by Junior Minister John Curran, the minister with responsibility for the 26-County drugs strategy, on the roll-out of the 'Dial to Stop Drug Dealing' scheme.
"Sinn Féin had been asking for this scheme to be extended across the state for some  time now and we are glad that the Government has eventually agreed to  our  demand. What we need now is action, not words. We need to move more gardaí out from behind desks and into their communities where they belong.
"Funding must also be increased for drug treatment and rehabilitation. The numbers of people presenting  for help with drug addiction is at record  levels. This is particularly so in the case of heroin addiction. The current economic slowdown must not be used as an excuse to cut funds for drug treatment and rehabilitation."