23 October 2008 Edition
Sharkey reveals major cutbacks at Louth County Hospital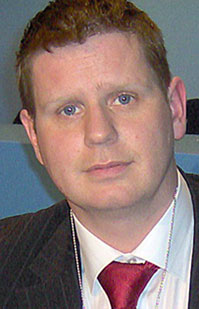 PLANS for major cutbacks at Louth County Hospital have been revealed by Louth Sinn Féin Councillor and the EU candidate for Ireland East, Tomás Sharkey.
Sharkey, a member of the Dublin/North-East Regional Health Forum, accused the Government of being "hell-bent" on closing services and neglecting the sick and elderly.
"The people of the North-East are victims of a government that doesn't care about our health. Fianna Fáil and the Greens don't care about our health.
"Last year, the 32-bed surgical wards in Louth County Hospital treated 1,780 patients: 662 of these were planned admissions but 1,118 were admitted through Accident & Emergency. However, the Government's policies led to a closure of beds last summer. They cut 32 beds to 24. That was a 25 per cent cut.
"Now the Government policy is planning another cut in surgical beds. From 20 October, surgical beds will be down to eight beds.
"On the 16 April 2007, the Green Party promised the retention of services in Dundalk as a key demand before they even considered coalition. Fianna Fáil TDs Dermot Ahern and Seamus Kirk have refused to act on a resolution of Louth County Council that they attend and explain their actions. The situation we are in is not solely the making of the HSE – the HSE was created by the Cabinet to carry out Cabinet policy."