23 October 2008 Edition
Important step forward for community safety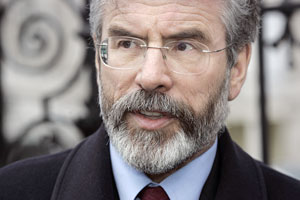 BY RICHARD McAULEY
AN important step forward in the fight against anti-social behaviour and in support of safer neighbourhoods was taken in the North's Assembly on Monday when a motion proposed by West Belfast MP and MLA Gerry Adams calling for inter-departmental, multi-disciplinary community safety was passed following a lengthy debate on Monday.
Community safety is a critical issue with people facing problems of anti-social and criminal behaviour, assaults on young women, car hijackings, elderly people being terrorised in their homes, citizens being badly beaten – some to death -–and citizens being stabbed or murdered.
The motion reflects Sinn Féin's determination to prioritise and promote community safety in communities and it called for a strategy that would include "proposals on alcohol-related crime and prolific offenders" and would be aimed "at reducing harm and promoting safety in local communities, to be led by the First Minister and deputy First Minister".
An amendment from Progressive Unionist Party MLA Dawn Purvis was rejected by the Assembly.
UPPER SPRINGFIELD
Speaking during the debate, Gerry Adams commended the work of the intervention project in the upper Springfield area of west Belfast and of the Upper Springfield Safer Neighbourhood Forum – an idea that has been extended to all parts of west Belfast, including the Shankill area.
The West Belfast MLA described such schemes as representative of "a new type of partnership between local communities and the statutory sector".
Adams also praised the efforts of local communities who, over many years, "have developed and promoted policies to eradicate poverty and to deal with poor health, low educational achievement, and the lack of community resources. That work is ongoing, because crime – particularly anti-social behaviour – does not occur in a vacuum.
"Some young people feel alienated and have low self-esteem. Some have parenting and other family difficulties, most are unemployed, and I believe that 50 per cent of young people who are currently detained are from an institutional care background.
"We have a duty to examine and correct those dimensions of the problem. Social justice and the rights of citizens demand that. It also makes good sense in the battle against crime. I appreciate the efforts of those involved in that pioneering work, and I foresee many possibilities emerging from those engagements.
"I commend community programmes such as community restorative justice and Greater Shankill Alternatives, which have already broken new ground in their field. There are other schemes, such as community courts (which are currently in use in Liverpool) that could have a role to play here, as could some of the innovative ideas emerging from the joint policing committees in Dublin and elsewhere throughout the island."
HEART OF THE PROBLEM
Gerry Adams identified some of the issues at the heart of this problem. He said:
"There is widespread concern about the link between alcohol use and crime against the person.
"In addition, drinking in public places is a major issue, and that is compounded by the fact that the regulation of drinking in public places is primarily a local government matter. The PSNI says it cannot arrest people for breaking the relevant by-laws. Instead, it refers any breaches to local councils for further action, and it is up to the councils to bring such matters before the courts.
"In addition, there is a problem with the sale of alcohol to under-age people and with prolific offenders who repeatedly harm others. Yet, at this time, no member can bring forward legislation to deal with such matters, and many local communities are distraught at the inability of the criminal justice system and statutory bodies to contend with prolific offenders.
"Many communities also feel that there are inconsistencies in the application of police and court bail.
"The introduction of legislation is crucial to tackling those matters.
"We have the potential and the ability to legislate better and more effectively on such matters than any British direct rule minister. Moreover, we have the right to do so, and I believe that the confidence exists among the public for us to do so."