23 October 2008 Edition
Sinn Féin meets Parades Commission on British Army march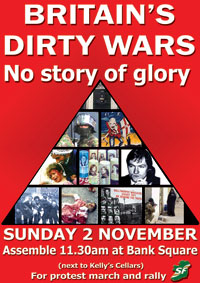 On Wednesday Sinn Féin met the North's Parades Commission about the planned parade through Belfast on 2 November by British Army troops serving in Iraq and Afghanistan. Sinn Féin has lodged an application for a peaceful and dignified protest march and rally on 2 November.
The delegation was led by West Belfast MLA Paul Maskey.
Paul Maskey said ahead of the meeting with the Parades Commission:
"The British Army's track record in Iraq and Afghanistan, much like here in Ireland, is not one of heroism – it is one of murder and oppression.
"Sinn Féin plans to hold a peaceful and dignified rally during this event in order to highlight the continued opposition to these illegal wars by people from right across the city of Belfast from many different backgrounds.
"It is also to highlight the many victims of the British Army, UDR and RIR here at home, victims of collusion, intimidation, shoot-to-kill, torture and state murder. That is the legacy of the British Army and RIR here in Ireland."
Following the meeting  Paul Maskey said Sinn Féin had expressed its strong opposition to the march.