23 October 2008 Edition
Eames and Bradley present proposals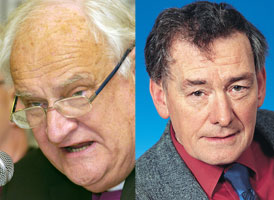 By Laura Friel
DRAFT proposals by the Eames/Bradley Consultative Group on the Past were presented to the British and Irish governments last week after details of their plans to deal with the past were leaked to the media.
A summary of the proposals appeared in the Belfast News Letter a day before the consultative group was scheduled to address a meeting of the British-Irish Inter-Parliamentary Body.
According to media reports, the draft recommends a five-year commission appointed by the British and Irish governments and endorsed by the Assembly. Unlike South Africa, instead of public hearings, the commission's inquiries would be conducted in private.
Under the new proposals, the Historical Enquiries Team (HET) would be subsumed into an investigation unit attached to the commission instead of the PSNI. As with the HET, any inquiry would be conducted with a view to prosecution. But, where the Public Prosecution Services decides it is not possible to pursue a case, it may be taken over by an information recovery unit.
Where convictions cannot be secured, it is suggested that anyone giving further information will be able to secure some measure of protection from self-incrimination.
It is further proposed that the commission and its units will take over the role of the Police Ombudsman in relation to investigating allegations of collusion.
The Consultative Group on the Past, headed by Robin Eames and Denis Bradley, is a British Government initiative and its members have been appointed by the British Government.
The group is accountable only to the British Government and has no powers to compel the British Government to implement any of its proposals. It's against this backdrop that Sinn Féin continues to hold serious concerns about the Eames/Bradley initiative.
 In addition, proposals leaked to the media lack the kind of specific detail which might enable a proper judgement. For example, it is suggested that the commission would be headed by an independent international chief commissioner but how that independence is manifested remains unknown.
Clearly, in light of the recent damning report by Dr Patricia Lundy, a simple transference of the HET, as proposed by Eames and Bradley, would ignore the fundamental problems already being experienced and would set a course which inevitably repeats past failings.
Commenting, the Sinn Féin spokesperson on victims, Francie Molloy MLA, called for the establishment of an international truth recovery process.
"Following a process of consultation and discussion, particularly with victims and victims' groups, Sinn Féin has concluded that the best way forward on the issue of truth recovery is through the establishment of an independent international truth commission," said Molloy.
The Eames/Bradley initiative is scheduled to publish its recommendations in December.