23 October 2008 Edition
Pól Brennan's lawyer in Belfast visit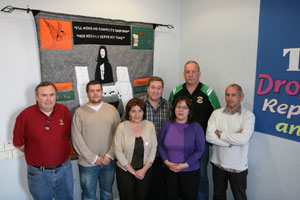 THE US attorney representing H-Block escapee Pól Brennan who is being held in a Texan prison was in Belfast this week to meet members of Brennan's family.
Jim Byrne met with Pól Brennan's sisters Marion and Sal and his nephew Colm at the offices of ex-prisoners group Tar Anall on Belfast's Falls Road on Tuesday, 21 October. Also at the meeting was Eamon McMenamin who is working on the Brennan case in America.
Bobby Storey, chair of Belfast Sinn Féin represented the party.
Joe Doherty, of Coiste na nIarchimí, who was himself detained in a US prison before being sent back to Ireland also attended. He told An Phoblacht that Coiste is working for "justice for Pól Brennan".
At present the Ballymurphy man is being held without bail in Texas and is on 23-hour-a-day lock up.
His lawyer is challenging the prosecutor's role in blocking bail for Pól by claiming that he is a, "flight risk", saying that when Brennan was fighting a British warrant for his extradition he was bailed and obeyed all the conditions of his bail.
The latest news in the Brennan case is that Pól is due in court soon for a, "change of status", hearing and his lawyer is calling on supporters to write to Judge William C Peterson backing Pól Brennan.
Anyone sending letters should address them to Pól's lawyer Jim Byrne at:
The Law Offices of James M. Byrne,
1374 Pacific Avenue,
San Francisco, 
California 94109,
USA.
H-BLOCK ESCAPEE PÓL BRENNAN
Imprisoned in Texas — Fighting deportation
SHOW YOUR SUPPORT
Help with legal case
Fundraiser
8pm Sat 25 Oct
Andersonstown
Social Club, Belfast