23 October 2008 Edition
Booing, blowouts and back-downs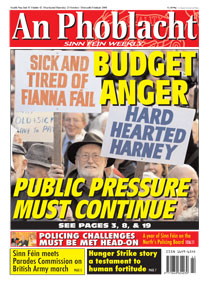 Budget 2009: "Anti-citizen" and "anti-republican" – Adams

BY ROBBIE SMYTH

PEOPLE power rocks. If you thought that ordinary voters didn't matter, the events of the last week proved tsunami-like that governments can sink under a tidal wave of public anger and disgust at their short-termist budget decisions.
Pickets at Leinster House, TDs clinics, ministerial photo calls, an unceasing stream of callers to radio chat shows, and some high level lobbying unravelled the first budget of Finance minister Brian Lenihan who just ten days ago proclaimed smugly that he was "protecting those who are most vulnerable in our country".
Not since John Bruton's attempt in 1982 to levy VAT on children's clothes and shoes has a budget and government polices come undone in such a dramatic car wreck as the Fianna Fail/Green/PD coalition's budget. With its budget policies in tatters,  the depth of just how leaderless, how ill thought out, the 2009 budget became apparent.
The parallel back-tracking on the regressive and deeply inequitable 1% income levy which will not now apply to those who earn the minimum wage or less did not go as far as the trade unions had demanded. However, it did nothing to convince the public and watching media commentators that yet another policy u-turn was being taken.
Those who earn a paltry €17,500 or less annually will now be exempt, meaning that the government will have to make up an extra €50 million in funding, adding to the extra costs of carrying the medical card scheme forward for another year. They have not yet explained how they will accommodate this spending.
However there was a sleight of hand in Brian Cowen's commitment to retain the medical card for the over 70s. It only applies to those who already have them. A new means test will be introduced in January 2009, and pensioners who earn over €36,500 annually will not be entitled to a medical card, ending the seven years of universal access to this vital health care resource.
From the moment that Brian Lenihan sat down to a standing ovation from his coalition partners and Fianna Fáil back benchers on budget day Sinn Féin has been active in highlighting the gaping deficiencies in the Fianna Fáil/Green Party strategy and re-iterating the other funding sources open to the government.
Caoimhghín Ó Caoláin speaking in Leinster House this week highlighted just two such options ignored by Cowen and Lenihan such as taking tax breaks away from private hospital developers, the €10.6 million savings from which would have funded 6,000 medical cards. Making all discretionary tax reliefs available only at the standard rate of tax would have saved €1 billion.
Sinn Féin President Gerry Adams accused the Green Party and others of being part of a government "which punishes the young and the elderly and then describes this as a call to patriotic duty".
Adams said "The government presented no new ideas for economic recovery. Instead the people of this state now face savage cuts and additional taxes of an unprecedented nature" and that "This government has never been about the redistribution of wealth or utilising the economy in the common good". The Fianna Fáil budget was Adams said, "anti-citizen" and "anti-republican".

In Dublin, Sinn Féin's party chair Mary Lou McDonald led a demonstration organised by the party outside Health Minister Mary Harney's constituency office  in Lucan in response to the government's decision to means test the over-70s access to medical cards.
The Dublin MEP said "This week the government delivered a terrible blow against the most vulnerable in Irish society. It was McDonald said "a slash and burn approach that attacks those on low to middle incomes whilst continuing to shelter the higher paid from paying their fair share".
Across the state Sinn Féin members and activists were over the weekend leafleting voters at town centres and shopping districts, lobbying them to make their voices heard over the budget cuts.
Sinn Féin Agriculture spokesperson Martin Ferris focused on the 13% budget cutbacks in agriculture and fisheries criticising in particular cuts in research and development for the farming and fishing sectors.
Ferris said "Teagasc, which has provided invaluable practical support for farmers, must be capable of rising to new challenges presented by a reformed Common Agricultural Policy" especially "at a time of radical change within the sector" with the potential for farmers to expand into energy and bio fuel crops. The danger according to Ferris was that "by making a short term saving what you are in fact doing is closing off a potential avenue of encouraging localised economic growth".
Ferris also attacked the closing off of the Early Retirement Scheme and the Installation Aid for young farmers. He said it would be certain to "have a malign impact on those farmers in the process of transferring responsibility for the family farm".
For the past week much of the media focus has been on the medical card issue and 1% tax levy, there is till the question of larger class sizes, fewer teachers, less new school buildings and massive cuts in funding to tackle educational disadvantage, as well reduced spending on social and affordable housing.
The TUI estimated this week that up to 1,200 teaching posts could be lost from second level schools. The INTO attacked the budget saying the Irish class sizes would now be the biggest in the EU. And that more than 300 primary schools could lose a teacher next year as well as cuts of up to 500 English language teaching posts while 200 jobs will go in disadvantaged schools.
It has been a tumultuous week for the coalition government, but much more work needs to be done to get Budget 2009 truly buried.


'Frightening Injustice' – Ó Caoláin speaks out on medical cards
"The most callous, ill considered and stupidest decision ever made by an Irish Government" were just some of the terms that Sinn Féin TD, health spokesperson and Dáil leader Caoimhghín Ó Caoláin used to describe the decision to take the medical card from tens of thousands of people over 70.
Speaking in Leinster House, Tuesday 21 October in a debate on the Medical Card entitlements Ó Caoláin said that, "What trust can the people have in these troubled times in a government that could perpetrate such a massive political blunder".
"It is frightening to think that a group of men and women sat around a Cabinet table in Government Buildings and approved the decision to re-impose means-testing for medical cards for the over 70s.
"Even looking at it from the crude point of view of political management this has been a disaster.
"More worrying still is that fundamental policy decisions on health and on taxation, affecting the lives of millions of people, could be taken in such a sloppy and irresponsible and ill-considered manner.
"The climb-down we have seen today came about because the first crack appeared in Fianna Fáil Parliamentary Party discipline. I can only describe as pathetic the role of the Green Party who played their part to the full in the framing of this Budget, including the medical card fiasco.
"The medical card climb-down by the Government today does not go far enough. Universal medical card entitlement for the over 70s should be fully restored.
"We in Sinn Féin approach this issue from a point of principle. We say that access to health services should be based on medical need and medical need alone. We want to see this state moving towards a universal public health system.
Budget anger – public pressure must continue
BRIAN Cowen's announcement of new arrangements for medical card entitlements for the over 70s is a significant climb-down by a government reeling after the wave of anger which hit them in the wake of one of the most unjust and unpopular budgets in decades.
After creating widespread anxiety it is now unclear whether the Government will make any savings from the medical scheme at all. A government in crisis is now making up policy as it goes along.
Just six months into his term of office Brian Cowen has made one of the biggest government climb-downs in the history of the state under pressure from his own back-benchers, the opposition and, crucially, the public at large.
But the decision on medical cards for the over 70s was just one of dozens of unfair cutbacks included in Budget 2009 and the public pressure witnessed on the streets in recent days must continue.
The government must be forced to reverse other reactionary measures such as the decision to increase school class sizes and to make further changes to the deeply unfair 1% income levy which still affects many low paid workers.
The government's climb-down on the income levy does not go far enough. Working families and those on very low incomes will be hardest hit by this punitive tax.
Sinn Féin in its pre-Budget submission called for a rolling review of taxation with the objective of increasing the number of tax bands to assist working families and make the taxation system fair and progressive.
It also made a number of revenue raising proposals, which, if implemented, would have raised enough money to ensure that the most vulnerable in society were protected. These included ending tax breaks for private hospitals and making all discretionary tax relief schemes available only at the standard rate. This would raise €1 billion.
As Sinn Féin Dáil leader Caoimhghín Ó Caoláin pointed out this week, there are many other revenue raising options open to the Government but the policies that they pursue have led them to target the most vulnerable in Irish society.
People power has worked. Now let's keep it going – Ó Caoláin
SPEAKING at a rally organised by the Irish Senior Citizen's Parliament at Leinster House on Wednesday, Sinn Féin Dáil leader and Spokesperson on Health & Children Caoimhghín Ó Caoláin commended senior citizens for "rocking the political system and for forcing a climb-down by the Government", and he added: "People power has worked - now let's keep it going."
He said the latest Government climbdown on the issue of medical cards for over 70s did not go far enough.
"We demand the full restoration of universal entitlement for the over 70s", he said.

tax breaks
The Sinn Féin TD said that access to health services should be based on need alone. "Government spending on health should be in public health services only with access for everyone equally. This Government has refused to end its tax breaks for the developers of private hospitals. In 2006 alone that tax break cost €10.5 million and that would have funded 6,000 medical cards.
"We are constantly challenged when we raise the demand for universal public healthcare. 'Who will pay for this?' The question should be 'Who paid for this?' and the answer is 'You, the pensioners of Ireland. You paid for a decent health service in taxes during your working lives.' "
Recalling that Finance Minister Lenihan said his Budget was a 'call to patriotic action' he said: "if he wants to talk about patriotism let him recall the words of the Democratic Programme of the First Dáil Éireann, the 90th anniversary of which we will mark next January. It said:
'The Nation's aged and infirm shall not be regarded as a burden, but rather entitled to the Nation's gratitude and consideration'."