9 October 2008 Edition
Death of Sinn Féin Councillor Charlie McHugh, one of life's true gentlemen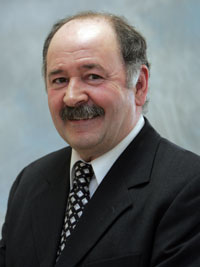 WEST TYRONE MP Pat Doherty has said that the sudden death of veteran Sinn Féin Councillor Charlie McHugh at his home in Castlederg, County Tyrone, has left everyone numb with shock and sorrow.
"In a personal capacity and on behalf of Sinn Féin, I would like to extend my heartfelt condolences to Charlie's wife Sylvia; son Ruairí; daughters Sara and Seodhna; mother Minnie; brothers Hilary, Maoliosa and John; sisters Veronica and Mary; grandchildren and wider family circle at this time of unbearable loss. You are all in our prayers and thoughts at this time.
"Charlie was a man of deep integrity and commitment. His exceptional qualities came to the fore in every aspect of his life: in his role as a loving family man, in his role as a tenacious elected representative of the people of the Derg and Strabane district, and in his lifelong role in, and massive contribution to, the republican struggle."

ELECTED
Charlie was first elected by the people of the Derg electoral area of Strabane District Council in 1985 and duly returned at each subsequent local election. He was elected chairperson of Strabane District Council in 2000-2001.
Pat Doherty said that Charlie was held in the highest of esteem and respect.
"He was a household name amongst republicans, both near and afar. He will be sorely missed.
"The community is numb with shock and sorrow and everyone will rally around in the days ahead to try and comfort and support the family."
Another of Charlie McHugh's party colleagues, Strabane Council Chairperson Councillor Jarlath McNulty said:
"First and foremost, Charlie was a very family-orientated man and everyone's thoughts and prayers are with his family.
"On behalf of Strabane Council and party colleagues, I would like to take this opportunity to offer my sincerest condolences to Charlie's family at this time of heartbreaking loss.
"Charlie was one of life's true gentlemen, which endeared him to friend and foe alike.
"Highly intelligent as well as being acutely streetwise, Charlie was often the first person people turned to when seeking advice or help. He was guiding light for so many people within the council, within the community and within Sinn Féin.
"His contribution has been immense and his loss immeasurable.
"Ar Dheis De go raibh a anam uasal."
Fógraí bháis: Councillor Charlie McHugh laid to rest
CASTLEDERG came to a standstill as Sinn Féin Councillor Charlie McHugh was laid to rest this week.
Large numbers of mourners gathered outside the McHugh family home at Hillview Park from early morning. As the coffin of the veteran republican councillor emerged, the national flag and a Tyrone shirt were placed on it by Charlie's son, Ruairí, and lifelong friend and comrade, Dave Cameron.
Led by a lone piper and flanked by a guard of honour, members of the immediate and extended family circle carried the coffin out to the junction of Castlefin Road, where Sinn Féin leaders Gerry Adams and Martin McGuinness formed part of the first group of pall-bearers representing Sinn Féin and were followed by others, including: the Strabane Sinn Féin Council grouping; members of the local Harvey/McGlynn/Connolly Sinn Féin Cumann, Castlederg; neighbouring Sinn Féin cumainn in the 'Derg area'; as well as groups of pall bearers representing old comrades and longtime friends from the local St Eugene's GAA Club in Castlederg.
Despite driving, heavy rain, numbers following the cortege continued to swell as it made its way along the half-mile route to St Patrick's Church, where large numbers of mourners where also waiting both inside and outside on the streets.
 
'A GIANT OF A MAN'
The Mountains of Pomeroy, a tune much loved by Charlie, was played as his coffin was carried into the church.
Parish Priest Fr Patrick Doherty was joined by four other priests in co-celebration at the Requiem Mass.  During a highly emotional ceremony, there were poignant offerings and readings from family members. The strains of The Foggy Dew rang out as Charlie's remains were carried from the church to their final resting place in the adjoining graveyard. Before the burial ceremony, Charlie's wife, Sylvia, was presented with the national flag by Gerry Adams and Martin McGuinness.
At the graveside ceremony, Strabane Sinn Féin Councillor Gerard Foley spoke about Charlie's death being an irreplaceable loss to family, community and Sinn Féin. Before introducing Pat Doherty MP to deliver the main oration, he described his close friend as "a giant of a man" and as "the backbone of local community" whose contribution will only be realised in the fullness of time and who will be sorely missed by all.
During his oration, Pat Doherty spoke of Charlie as being a family man first and foremost and said that as a community and as republicans everyone stood united in grief and solidarity with Charlie's wife Sylvia; daughters Seodhna and Sara; son Ruairí; grandchildren Oisín, Cahir, Conor, Dearbhla and Róis; mother Minnie; sisters Veronica and Mary; brothers Hilary, Maolíosa and John; and extended family circle at this time of unbearable loss.

PASSION
He said that Charlie was not one for fanfare but was best known for the quiet, steady and constant way he worked for people and got things done.  He said that Charlie's republican activism long preceded his first election as a Sinn Féin councillor to represent the people of the Derg electoral area of Strabane District Council in 1985 and his subsequent re-election ever since and that it was in no small part due to the work that Charlie McHugh had done that Sinn Féin now held three of the five council seats in the Derg electoral area.
The local MP spoke about Charlie's passion for the GAA and his beloved Tyrone and said that as someone who had given unwavering service to the GAA down through the years it was a fitting and poignant tribute when the Sam Maguire Cup was brought to the wake house yesterday morning.
Continuing, he said that Charlie McHugh was a republican true to the ideals of Wolfe Tone in the belief of uniting Orange and Green and said that in recent times Charlie had put a particularly renewed vigour into this important element of work.
Concluding his address, he urged everyone, including friends, neighbours and comrades, to rally round and give the McHugh family every support to provide them comfort and strength in the difficult days and weeks ahead.
The graveside ceremony concluded with a powerful rendition of Amhrán na bhFiann by Mary Dinning.