9 October 2008 Edition
Job creation and enterprise must be focus of Budget 2009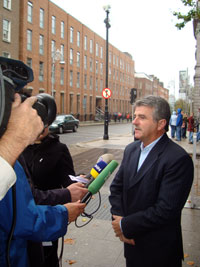 SINN FÉIN has been in touch with both Fine Gael and Labour in a bid to form a combined Opposition lobby for a meeting with Finance Minister Brian Lenihan and Government party spokespersons on Finance to try and reach an all-party consensus on the terms and conditions of the insurance deal with Irish banks.
Economy spokesperson Arthur Morgan made the announcement on Tuesday as he briefed the media at Leinster House on Sinn Féin's position on unfolding developments in the banking crisis.
Morgan added that Finance Minister Brian Lenihan has been given extensive powers over the Irish banking sector and it is extremely important that such powers are used in the public interest.
The Sinn Féin TD called for a cleaning up of the banking sector, ensuring a proper payback for the Irish taxpayer and support for small businesses and home-owners at risk because of the reckless practices of financial institutions.