9 October 2008 Edition
Why Sinn Féin supported the Dáil legislation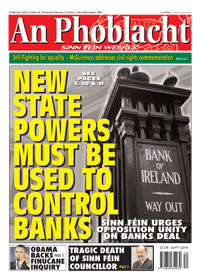 State guarantee needed but banks must be controlled
We need to know what assurance will be given to those who have lost their jobs in the construction sector, those who are mortgaged to the hilt and are facing negative equity in their homes, those who risk losing their homes and those who did not earn bonuses during the boom years while others reaped millions

By Mícheál Mac Donncha
 
THE emergency legislation rushed through the Dáil and Seanad last week was supported with strong reservations by Sinn Féin.
The five Sinn Féin Oireachtas members accepted that this major Government intervention was needed and they supported the passage of the enabling legislation, the Credit Institutions (Financial Support) Bill 2008. However, they demanded that the banks be reined in and strictly controlled and that the economically vulnerable be protected. They also made clear that the policies of Fianna Fáil-led governments of the past decade and the practices of the financial institutions are responsible for the Irish economic recession and the financial sector meltdown.
Sinn Féin Economy spokesperson Arthur Morgan spoke on the Bill in the Dáil. He said his party understood that the Government needed to intervene to stabilise the financial system and that the logic was to "undermine the bear market and lead to investment in our banking system". He told the Dáil:
"This legislation is about more than the banks. It is about offering security to ordinary citizens, investors and Irish businesses, which in turn means jobs. It may well prove to be a move that other states will seek to emulate.
"What will be the quid pro quo? What will the Government extract from the banks in return for this legislation? The Bill does not offer the details needed to inform us of the terms and conditions the taxpayer will require. We need to be particularly cautious about this move because, since the Central Bank has proven itself to be spectacularly incapable of doing its job, we do not know what our major banks' budget sheets look like and what liabilities Irish taxpayers are undertaking.
"We need the guarantee to be underpinned by more conditions and we need detail thereon.
"When the Government bailed out AIB in the 1980s, after the ICI collapse, a levy was introduced on the banks. A similar initiative must be included in this Bill to build a fund that will serve to meet the insurance requirement that is clearly necessary for the banking sector. If this guarantee does what it should, the banks should make a profit from borrowing the Irish state's name and should pay significant compensation to the state for that security.
"There should also be a commitment from bank management to forego bonuses for the time covered by this guarantee, or consider cuts in their exorbitant salaries.
"Separately, we need to see new transparency in the banking system and we need better regulation.

"Today, while welcoming this decisive move, we must point out that action could have been taken many years ago to prevent the move from being necessary. As far back as 2005, the Oireachtas Committee on Finance and the Public Service  – of which my colleague, Deputy Ó Caoláin, was a member – made recommendations on bank charges and interest rates. Deputy Ó Caoláin initiated the process. As well as exposing the lack of transparency on the part of banks regarding their charges for customers, the committee urged the need for further regulation of banks. We must not forget the current global financial crisis is of the sector's own making.
"We need to know what assurance will be given to ordinary people, including those who have lost their jobs in the construction sector, those who are mortgaged to the hilt and are facing negative equity in their homes, those who risk losing their homes and those who did not earn bonuses during the boom years while others reaped millions.
"This guarantee will mean nothing to people, hauled before the courts by the banks, currently embroiled in court hearings over mortgage defaults. When was the last time the Government sat through the night to come up with solutions to solve these people's problems, as it did last night?
"It is imperative that the Government offers the same level of security offered to the banks to ordinary people in debt to the banks. Thus far, no bank has moved on a major developer to recoup loans, yet homes continue to be repossessed. Along with the guarantee I seek, there should be an immediate moratorium on home repossessions. Every step must be taken to ensure people can reschedule loans where required, defer payments on the capital sum borrowed and, as required, negotiate interest-only repayments for a designated period.
"My party has always been in favour of a state bank. This morning's announcement is evidence enough of the value of such a proposition. With a state bank, the Government can adequately protect the investments and deposits of ordinary citizens and small businesses while wisely investing profits into the public purse to the advantage of all.
"The new-found policy of privatising profit while socialising debt surely magnifies the need for an urgent reorientation of our economy. The sooner such a process commences, the sooner funding will be found for the provision of proper social services."
In tabling their own amendments and supporting those tabled by the Labour Party, the Sinn Féin TDs sought more accountability to the Oireachtas from the Minister in implementing the Bill.
Arthur Morgan said it is "entirely reasonable that the Government should be asked to include a model of the scheme with this Bill and to outline at least a general guideline of the terms and conditions that will apply in any such schemes". He continued:
"When we look at the example of the banks and their rip-off practices, we see AIB bailed out and not having to pay back anything like the reward it received from the state. We should contrast that treatment of the banks with the treatment of constituents of ours who have received an overpayment of welfare benefits of €200 or €300 and who receive a letter straightaway demanding the money back. This does not apply to the banks so it is easy to understand why there are reservations in this House regarding the absence of a model of the scheme.
"Many in this House, including myself, warned more than three years ago that the economy was grossly over-reliant on the construction sector and that the Government needed to develop alternative options. There was construction and internal consumption, and as soon as one began to shift, the other naturally melted like snow off a rope, but the Government did nothing about that."
Also arguing for more accountability, Sinn Féin Dáil leader Caoimhghín Ó Caoláin said:
"Sinn Féin members will support the minister in the passage of this legislation and we hope in the exercise of our democratic responsibility we will have the opportunity to ensure the transparency and accountability to this House that we sought in amendments presented in respect of the out-working of the powers now vested in the minister and his colleagues."
While the Government voted down the Sinn Féin and Labour amendments in the Dáil, it put forward its own amendment in the Seanad which requires any draft scheme under the Bill to be approved by the Oireachtas before being put into effect by the minister. Welcoming this Seanad amendment, which had to be ratified by the Dáil, Caoimhghín Ó Caoláin concluded on behalf of Sinn Féin:
"I welcome the amendment and will be supporting it. The crisis we have faced over recent weeks was a direct result of the reckless behaviour of the banks.
"I would have liked this amendment to go further and to know what guarantees the Government is prepared to offer the House. I would have liked the amendment to include the opportunity of detailed scrutiny of the draft scheme in advance of the minister moving on his respective resolutions.
"That is the guarantee we require and the context of my contribution to this amendment. I want the reassurance that the House will have the opportunity to properly address the detail contained in any of the draft schemes.
"Sinn Féin did not take its position in supporting this Bill lightly. We have our concerns and reservations but we decided to support the passage of the legislation because we believe it is about more than the banks – it is about offering security to ordinary citizens.
"We need the terms and conditions and full access to the minister's intent. We need an outline of the true level of underwriting because I do not believe the full reality has been spelt out here regarding what the minister really intends. I look forward to having the opportunity for further address of this important measure in its out-working over the weeks ahead." 
Terms and conditions that should apply
THE Sinn Féin Ard Chomhairle on Saturday, 4 October, discussed the financial crisis and what should happen next following the adoption of the Government guarantee to the banks.
Party Chairperson Mary Lou McDonald MEP said:
"There needs to be emphasis now on the terms and conditions that must be placed on the banks to ensure a proper payback for the Irish taxpayer."
She set out the terms and conditions which are needed "at a very minimum":
•    A new bank levy - a proportion of this money should be diverted to the community-based, non-profit debt counselling organisation, MABS (Money Advice and Budgeting Service) to help homeowners currently in difficulty;
•    Requirement to negotiate with mortgage holders on low incomes and a plan for the reasonable repayment of their mortgage, including a moratorium on home repossessions of those families struggling to make payments;
•    Initiatives to review the writing-off of negative equity in homes;
•    A refocus of banking business in support of indigenous small and medium business, particularly those in the export sector;
•    Introduction of a strict and effective regulatory regime to monitor bank practice;
•    Requirement on bank management to forego bonuses for the length of time covered by this guarantee;
•    Review of salary structure of executive level management;
•    Pay should now be awarded on the basis of consistent salaries – not on performance returns and risk
•    Two-year performance review of all those in executive level management