25 September 2008 Edition
Sinn Féin vote solid in Fermanagh by-election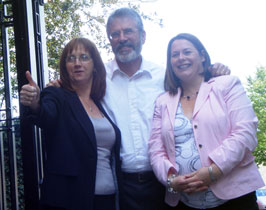 THE Fermanagh District Council by-election last week was won by Enterprise Minister Arlene Foster for the DUP with Sinn Féin's Debbie Coyle increasing the party's vote to come in second to the DUP's 'big hitter'.
After transfers, Foster polled 3,165 votes and Debbie Coyle 2,383 but the first-preference vote gap was much narrower, Foster polling 1,925 and the republican candidate 1,816.
The SDLP vote dropped by almost seven percentage points.
Debbie Coyle said afterwards that she was pleased with the slight increase in the Sinn Féin share of the vote.
"I want to thank everyone who came out and voted for me and everyone who worked on the campaign. I will continue to work for local people on the local issues that matter.
"This was always a safe unionist seat and it is a testament to the hard work of Sinn Féin in Fermanagh that we did so well. It gives us a strong platform to build on for future elections.
"We fought a good campaign and engaged with thousands of people. This is an engagement we will build on.
"The challenge for Arlene Foster now is to prove that she is able to meet the needs of all people through the council and that she is committed to treating the nationalists and republicans of Fermanagh as equals."