25 September 2008 Edition
'Garda should focus on drugs and gun crime'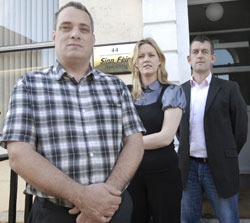 Sinn Féin submission to Garda Policing Plan 2009
SINN FÉIN Justice spokesperson Aengus Ó Snodaigh TD has launched the party's submission to the Garda Policing Plan for 2009 and has urged the Minister for Justice and the Garda Commissioner to focus on drug and gun crime and to redeploy fully-trained Gardaí from administrative duties into the fight against crime.
Speaking at a press conference in Dublin on Tuesday, Deputy Ó Snodaigh said that, in the context of rising crime and recession, An Garda Síochána simply cannot afford to misdirect their spending. He said that a number of examples of monies wasted by the gardaí had been highlighted by the Comptroller and Auditor General.
"This cannot be allowed to continue. Spending must be tightly matched to community priorities," said Ó Snodaigh.
"For the second year running, we are arguing for drug and gun crime to be on the top priority for the gardaí. We continue to be extremely concerned about the extent of the drug problem in Ireland and its associated crime. We are particularly concerned that the heroin market continues to grow. We urge a more aggressive pursuit of heroin dealers and cocaine dealers in the year ahead and for resources to the Garda Drug Squads to be at least doubled.
"Measures can be taken to deploy gardaí more effectively and efficiently within current funding provisions. A robust process of civilianisation will be fundamental to the delivery of effective policing. This process must be expedited to a level equivalent with our neighbouring jurisdictions in order to quickly and cost-effectively free up fully-trained gardaí to be redeployed into the fight against crime."
He said the Sinn Féin plan includes a new section expressly focused on rural policing which recognises that while many policing needs are common to both rural and urban settings some needs may be particular to, or more pertinent to, rural communities. Likewise a further new section makes proposals specific to policing services for older people, people with disabilities and ethnic minorities.