25 September 2008 Edition
Court orders PSNI to surrender files on Pearse Jordan killing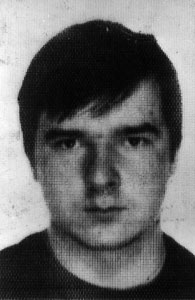 BY LAURA FRIEL

PSNI Chief Constable Hugh Orde has been told by a high court judge to hand over reports into the killing of Pearse Jordan. The IRA Volunteer was unarmed when an undercover unit of the RUC rammed the vehicle he was driving and shot him dead in 1992.
Reports by the investigating officer at the time have been requested by Coroner John Leckey. Leckey asked for the documents ahead of a reopening of the repeatedly-delayed inquest into the Jordan killing scheduled for early next year.
Following the coroner's request, the PSNI chief constable sought a judicial review to block access to the documents but the application was turned down by Belfast High Court last week.
Presiding Judge Morgan ruled that the case presented on behalf of the chief constable was so weak that it held no prospect of success. Morgan rejected the PSNI's application for a judicial review.
Lawyers acting for the PSNI insisted that the files of the investigating officer were irrelevant because they were based on an individual's subjective analysis; the judge rejected their arguments. He said:
"Although each document contains matters of opinion, comment, assessment, conclusion and recommendations, it is clear that the detailed analysis of the relevant material is likely to be extremely helpful to the coroner in defining the issues which he can expect to emerge in the hearing of the inquest.
"There is no basis for limiting the information to which the coroner is entitled by reference to whether it is factual, opinion or assessment."

TRUTH
Speaking after the ruling, Pearse's father, Hugh, said it is yet another hurdle overcome in the battle to get the truth about his son's death almost 16 years ago. The family, working with the support group Relatives for Justice, have already brought the case to court almost 130 times. Hugh Jordan said:
"Of course, as a family, after so many court hearings we feel drained but we want the record put straight. We want the truth and the support of our friends and neighbours, as well as Relatives for Justice has been invaluable."
Mark Thompson of Relatives for Justice said it is scandalous that the Jordan family have had to go to court so many times to find out what happened to their son.
"The PSNI have tried everything to stop anything reflecting badly on the police getting out. That needs to stop and the files must be handed over."
Hugh Orde has a week to decide whether to challenge last week's high court ruling in the Court of Appeal.
• Pearse Jordan's parents Teresa and Hugh with Mark Thompson of Relatives for Justice