18 September 2008 Edition
Legendary Volunteers to be honoured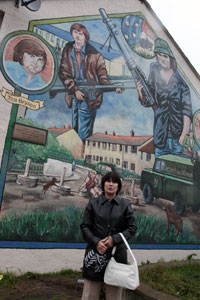 'When Faulkner showed his hand
He thought that by internment
He could break our gallant band
But the boys from Ballymurphy
How they showed the way that night
How they taught those English soldiers
How Irishmen could fight'
These lyrics from the ballad about Long Kesh immortalised the ferocity of the fighting in Ballymurphy, West Belfast in the aftermath of the internment raids in 1971.
British Paras murdered 11 people from the area in an effort to subdue the population. However, the IRA in Ballymurphy stood their ground and the British were forced to retreat to their barracks in the Henry Taggart Memorial Hall, only venturing out in great numbers or under the cover of darkness.
The spirit of Ballymurphy republicanism was embodied in two of the IRA's most feared fighters: Jim Bryson and Patrick Mulvenna, both of whom are being commemorated in a series of events this coming weekend.
On Saturday, 20 September, a plaque in memory of the two Volunteers, friends and comrades will be unveiled near the spot, on Ballymurphy Road, were they were gunned down by the British Army. That night in the Whiterock Leisure Centre, a DVD recounting the men's stories is to be shown.
Gerry Kelly, a Sinn Féin Minister in the North's Executive and cousin of Patrick Mulvenna's, is the guest speaker.
The DVD, produced by the Remember Our Volunteers Project, is also a poignant reminder that behind the image of courageous freedom fighters Patrick Mulvenna and Jim Bryson were 'ordinary fellas' from Ballymurphy.
This was summed up by Patrick Mulvenna's widow Frances, who states, "I first met Patrick Mulvenna when I was 13, I started going out with him when I was 16, we were engaged at 17 and married at 18. By the time I was 19 I was a widow and three months pregnant."
Jim Bryson's sister, Jean McComb, also spoke movingly of the brother she knew and loved.