18 September 2008 Edition
Adams visits Rathlin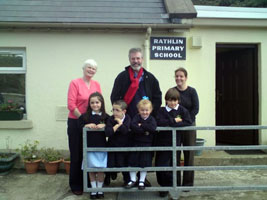 SINN Féin President Gerry Adams and senior party officials made an historic and significant fact-finding visit to Rathlin Island off County Antrim last week.
The visit, organised by Vice-Chair of Moyle District Council Councillor Cara McShane and Councillor Cathal Newcombe, is part of an ongoing programme of engagement with constituents on the island.
Councillor McShane said:
"This was an historic visit by Sinn Féin President Gerry Adams and his senior advisors.
"I believe Gerry's visit and his sustained interest in the issues affecting island peoples – along the entire coast of Ireland – is an important indicator of Sinn Féin's determination to break down decades of structural inequality and under-development.
"During the visit, Gerry heard at first hand some of the key factors affecting the residents of Rathlin.
"One of the issues raised was the fact that Rathlin Island has a number of wind turbines that are not working. It is my intention, with the backing of Gerry Adams, to lobby at European level – particularly through MEP Bairbre de Brún – for funding to assist this situation.
"We also visited the local primary school, which allowed the Principal to raise the issue of limited resources.  One issue of particular interest is the provision of Irish language classes for the children. Recently the Education Minister Caitríona Ruane launched a programme for the teaching of Irish in primary schools.
"Following his visit Mr. Adams raised this matter with the Minister, who indicated that she will support the provision of a part-time teacher of Irish for St Mary's.
"Combined with the need to enhance the tourist infrastructure and raise the profile of the new high-speed ferry, Sinn Féin remains focused on the needs of Rathlin Island. The visit of Gerry Adams last Thursday signals our continued commitment in that regard," Councillor McShane said.
Speaking after his visit Sinn Féin President Gerry Adams thanked all those he met for their warm welcome.
Adams said: "Rathlin Island is a beautiful place and I very much enjoyed my five hours touring the island. Like all of our islands scattered around the coast of Ireland, it has suffered from decades of neglect by government. Recently Sinn Féin Minister Conor Murphy visited Rathlin and has taken several initiatives which should go some way toward improving the quality of life of people living on the island. A number of issues were raised with me and, along with Councillor Cara McShane and Councillor Cathal Newcombe, we will seek to secure satisfactory progress."