18 September 2008 Edition
PDs irrelevant as policies adopted by Fianna Fáil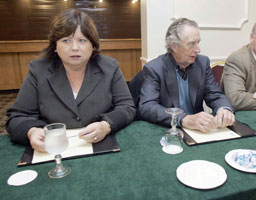 COMMENTING on the possible demise of the Progressive Democrats, addressed at meetings of the party on Tuesday, Sinn Féin Dáil leader Caoimhghín Ó Caoláin said:
"We may be witnessing the dying days of the Progressive Democrats and truly progressive people in Ireland will shed no tears over their demise. The reality is, however, that their right-wing outlook has dominated Government for over a decade and their negative influence has been beyond their elected numbers because they have represented the most privileged in Irish society.
"It is irrelevant whether the PDs continue as a party or not. Their key policies have been adopted by Fianna Fáil, including tax breaks for the most wealthy, rewards for property speculators and, above all, the privatisation of our health services.
"Health Minister Mary Harney has remained in that Department in order to complete the privatisation of our health services, including the notorious private hospital co-location scheme. This PD-originated plan was fully embraced by Fianna Fáil despite widespread opposition across the health services.
Harney Not accountable
"With health cuts already hurting the most vulnerable in our society the likely prospect is that Minister Harney will remain in her Department no matter what happens to her party. She will be accountable to no party and to no electorate because she will not be standing for election again. She will be free to impose more health cuts on behalf of her Fianna Fáil colleagues without fear of losing her seat. And they will continue their pretence of distancing themselves from her actions and decisions."