18 September 2008 Edition
Anger at low-flying RAF helicopters in Fermanagh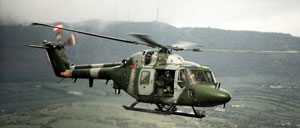 THE use of Fermanagh for low-flying training by RAF helicopters in preparation for service in Afghanistan cannot be justified and has caused upset to families and children living in Lisnaskea, Donagh and the Knocks area, Sinn Féin councillors in Erne East have complained. They have called for an end to RAF flights.
Councillor Thomas O'Reilly raised the issue at a meeting of the District Policing Partnership and cited overflights by helicopters at levels just above rooftops of people's homes on 4 September. He spoke of the disturbance and fear caused, particularly to older people and young children.
"Two helicopters circled low around Emmetts Football Club in Lisnaskea where young children were playing football and many – who had thankfully never had this experience before – were unnecessarily frightened. We don't need to be going back to the days of these low flights."
Councillor O'Reilly said that he has pursued this matter with the PSNI as helicopter overflights should be sanctioned by the police.
"Initially, they said that they had no knowledge of the flights but at the DPP meeting they said that it was RAF practicing.
"The justification that this was the RAF preparing for low-level operations in Afghanistan is completely unacceptable. Just why is it that populations in and around Lisnaskea have to be treated as 'guinea pigs' for such RAF training?
"I raised this issue at last night's DPP meeting and have been assured by Commander Barton that my concerns will be raised with the RAF. We will continue to monitor the situation to ensure that these disturbances are not repeated."