18 September 2008 Edition
Two charged over loyalist murder of journalist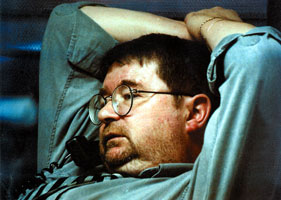 TWO men have been charged with the murder of journalist Martin O'Hagan in Lurgan, County Armagh seven years ago.
Martin O'Hagan (51) was shot dead as he walked home with his wife from a pub in in September 2001. The murder was claimed by the Red Hand Defenders, a cover name used by two unionist paramilitary groups – the Loyalist Volunteer Force and the Ulster Defence Association.
O'Hagan, who worked for the Sunday World newspaper, was the subject of death threats after he had written a series of articles on drug dealing by unionist paramilitaries.
In the early 1990s, he wrote several pieces about the UVF's mid-Ulster unit led by the notorious sectarian killer Billy Wright. Wright later broke from the UVF, founding the Loyalist Volunteer Force. He had threatened to kill Martin O'Hagan after several articles linked the group to drug dealing. Wright was shot dead by the INLA inside the H-Blocks of Long Kesh in 1997.
Neil Hyde, 28, of Princetown Avenue and Nigel William Leckey, 43, of Bowens Lane were both accused of the killing.
Leckey was also charged with possessing ammunition.
A third man, 42-year-old Robin Andrew King, was charged with attempting to pervert the course of justice by disposing of or concealing the getaway car.
King was described in Lisburn Magistrates' Court as a leading member of the LVF in the mid-Ulster area.
A fourth man, Mark Kennedy, 28, was accused of helping to facilitate the disposal or concealment of the getaway car.
Kennedy was granted bail, but the other three defendants were remanded in custody because of concerns over intimidation, absconding or committing further offences.