18 September 2008 Edition
Olympic medallist subjected to 'degrading' treatment by PSNI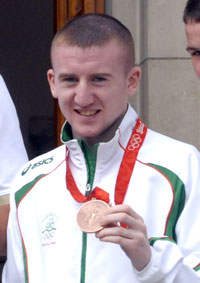 IRISH Olympic medallist Paddy Barnes was forced to endure a body search and abusive language by a member of the PSNI.
Barnes was called a "d***head" by the PSNI officer who grabbed him as he left a shop in north Belfast on Thursday, 11 September.
The 21-year-old light-flyweight boxer – who won a bronze medal for Ireland at the Beijing Olympics – said the incident was "ridiculous and degrading" and "seemed designed to provoke a reaction".
The bronze medallist, who has just picked up a Young Person of the Year award, said he feared the PSNI officer would punch him or use pepper spray during what was allegedly a routine inquiry into a stolen mobile phone.
The incident occurred when Barnes went shopping with friends in the city centre before returning to Newington, where he lives.
As he entered a local shop, Barnes was accosted by a police officer, who claimed the  boxer looked like a suspect in the theft of a  mobile phone.
According to Barnes, the PSNI officer grabbed him and dragged him onto the street.
"I was told to stand still. Lots of people were watching. It was embarrassing. They all know what kind of person I am, but it was humiliating to be made out to look like a thug.
"I told him my name, address and phone number and I raised my hands so he could begin his search. But as soon as I did, he shouted at me. He said if I raised my hands like that again he would 'drop' me. He told me he didn't care who I was and called me a d***head.
"I thought he was going to hit me or pepper-spray me. He seemed really edgy, volatile and definitely was looking for a reaction," added Barnes.
The boxer will make a formal complaint about the treatment he received.