18 September 2008 Edition
Pay deal a bad deal for low-paid, says Mary Lou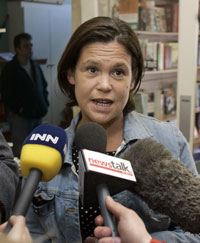 BY BRENDAN KERR
THE new draft wage agreement agreed by the social partners at Government Buildings in Dublin on Wednesday morning this week has been described by Sinn Féin as "disappointing" and "a bad deal for the low-paid".
Mary Lou McDonald MEP said the extra 5 cents an hour for private sector workers on €10 an hour is "farcical".
The new 'social contract' provides for a pay increase of 6 per cent for all workers, to be paid over 21 months. This will be paid in two phases, with a 0.5 per cent increase at the end of the agreement for workers earning less than €430.49 per week, or around €22,463 per annum.
All private sector workers will have a three-month pay pause. They will then receive a 3.5 per cent increase over six months, and a further 2.5 per cent for the following year.
Public sector workers will have an 11-month pay pause from the last module of Towards 2016.
They will then receive 3.5 per cent for the next nine months (commencing 1 September 2009), and a further 2.5 per cent for the remainder of the agreement.
Mary Lou McDonald said:
"No matter what way this deal is dressed up, it absolutely represents a bad deal for lower-paid workers.
"In a climate of rising costs of living and the failure still of the Government to provide an anti-inflation package, this pay rise for the low-paid will have a near-meaningless effect on the daily lives of those struggling on low pay.
"Unions representing low-paid workers went into these talks seeking flat-rate increases for low-paid workers. They were absolutely right to do so and it is extremely disappointing that the Government did not recognise the need for flat-rate increases. It has long been clear that percentage pay increases deliver bad outcomes for the low-paid, as better-paid workers benefit proportionally more.
"The Government may portray the deal as the best that could be achieved in the current economic climate. However, Sinn Féin is of the opinion that the most vulnerable in society should not be the people targeted to carry the can for the Government's economic mess."