13 August 2010
Drugs-busting hotline for Dublin Nth-East: 1800 220 220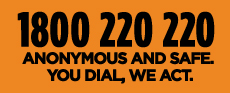 SINN FÉIN Councillor Larry O'Toole today launched the Dial to Stop Drug Dealing freephone line in Dublin North-East.
Speaking during the launch at the Mornington Centre this morning, Councillor O'Toole called on Justice Minister Dermot Ahern to secure permanent funding for what he described as a "highly successful project which has already had an invaluable influence on the fight against drugs".
Councillor O'Toole, who was acting as Deputy Lord Mayor of Dublin today, said:
"The Dial to Stop Drug Dealing freephone line is a highly successful non-Garda phone number that people can ring anonymously to report drug dealing in their community. The phone operators are not gardaí and the caller's details will not be passed on to the Garda.
"While the project has been highly successful, the Government has yet to secure permanent funding to secure its operation into the future or to promote it in a meaningful way. This must become a priority for the Justice Minister. The project is not expensive to run while its contribution to the fight against drug crime is invaluable.
"I am calling on people who witness drug dealing in the Dublin North East area to call the Dial to Stop Drug Dealing phone line on 1800 220 220 and report what they have seen."
"Dublin North East has seen its fair share of the drugs crisis and this is a valuable tool to enable the community to play a
An Phoblacht Magazine
AN PHOBLACHT MAGAZINE:
Don't miss your chance to get the second edition of the 2019 magazine, published to coincide with Easter Week
This special edition which focuses on Irish Unity, features articles by Pearse Doherty, Dr Thomas Paul and Martina Anderson.
Pearse sets out the argument for an United Ireland Economy whilst Pat Sheehan makes the case for a universally free all-island health service.
Other articles include, 'Ceist teanga in Éirinn Aontaithe', 'Getting to a new Ireland' and 'Ireland 1918-22: The people's revolution'.
An Phoblacht on Twitter

An initiative for dialogue 
for reconciliation 
— — — — — — —
Contributions from key figures in the churches, academia and wider civic society as well as senior republican figures