4 September 2008 Edition
Sectarian coat-trailing in Stoneyford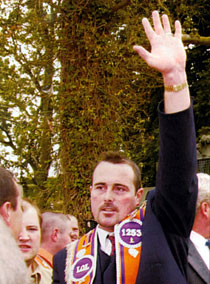 By Laura Friel
AN APPLICATION by loyalists to hold five marches within a month in the village of Stoneyford has been described by Sinn Féin MLA Paul Butler as an exercise in sectarian coat-trailing.
An application by the Pride of the Village flute band to stage five loyalist marches in September has been seen as a blatant attempt to increase sectarian tension in the area.
Band leader and convicted loyalist Mark Harbinson has been at the centre of an ongoing sectarian campaign of intimidation and violence against Catholic families living within the village. The decision to hold five loyalist marches can only be seen as an extension of that campaign of intimidation
"The intention behind these marches is to intimidate and they have to be evaluated against the backdrop of the ongoing sectarian intimidation of Catholic families living in the village," said Sinn Féin's Paul Butler.
"There is no historical precedence for holding these marches. The organisers have simply plucked the dates out of the air."
The band has applied to parade on 9, 16, 23, 27 and 30 September. A ruling by the Parades Commission to allow the marches to go ahead was described by the Lisburn MLA as regrettable.
"The severe restrictions imposed were at least an indication that the commission recognises the inappropriate nature of repeated loyalist parades in a village where Catholic families were already living under threat," Paul Butler said.
The band is only allowed to march from the Orange Hall to the memorial, a distance of around 100 yards, and is restricted to a single drum beat.
LOYALIST MOB
There have been over 80 attacks on nationalists living in Stoneyford. Eight families have already fled their homes, including two families who left the village earlier this year, after being systematically targeted by a sectarian loyalist mob.
Despite repeated attacks on Catholic residents by known local loyalists and the fact that two PSNI officers have already faced internal disciplinary charges for failing to investigate incidents, no one has yet been charged.
Earlier this summer, the DUP mayor of Lisburn, Ronnie Crawford, provoked further controversy when he attended an Eleventh Night gathering in Stoneyford, attended by members of the same loyalist mob.
The mayor also took part in the ritual burning of a poster of nationalist councillor and local MLA Paul Butler. Crawford is currently facing investigation by the Equality Commission following his actions.