4 September 2008 Edition
SDLP approach to justice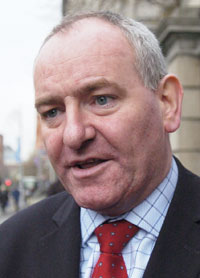 SINN FÉIN'S Policing spokesperson in the North, Alex Maskey, has said this week that nationalists and republicans would be disappointed as once again the SDLP has put "narrow self-interest" above the need to see powers on policing and justice transferred.
Maskey's comments came after SDLP leader Mark Durkan once again put securing the ministry from his party in front of actually securing the transfer of the powers.
Mark Durkan has accused Sinn Féin of conspiring with others to prevent the North's justice ministry going into nationalist hands and says that the SDLP is being denied its entitlements.
Responding to Durkan's accusations, Alex Maskey said:
"The recent enthusiasm being displayed by the SDLP to assume a future justice ministry is interesting given the fact that the SDLP never previously argued for such powers to be transferred. Indeed, in 2001 the then deputy leader, Seamus Mallon, told us that no further policing legislation was possible. Sinn Féin's negotiating strategy proved him wrong and further important changes were secured in legislation.
"Many nationalists will be disappointed that, at a time when maximum pressure needs to be maintained on the British Government to deliver their St Andrew's Agreement commitments in this area, senior members of the SDLP choose once again to put narrow self-interest ahead of ensuring that these powers are transferred speedily.
"In order to engage in petty political point-scoring, they would prefer to align themselves with the most reactionary elements of political unionism rather than join with Sinn Féin and demand the delivery of people's basic rights and entitlements.
"Mark Durkan is once again putting securing ministerial trappings for his party ahead of the need to actually secure the transfer of these powers. They would serve national and democratic interests far better if they joined with Sinn Féin in demanding that the British Government honours its St Andrew's commitments."