4 September 2008 Edition
Unionist paramilitaries target councillors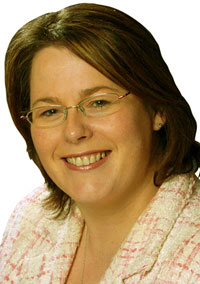 UNIONIST paramilitaries have targeted Sinn Féin councillors in Fermanagh and Antrim in the past week.
Death threats against Sinn Féin councillors in Fermanagh have been condemned by Sinn Féin Fermanagh/South Tyrone MP Michelle Gildernew who called on unionist political leaders in the county to challenge those responsible.
"I understand that a group calling itself the 'Real UVF' has issued death threats against Sinn Féin councillors in Fermanagh through the local paper, the Fermanagh Herald. Those issuing these threats have nothing to offer our communities and will not deter Sinn Féin from pursing our objectives of Irish Unity," Michelle Gildernew said.
"These sick threats against a team of councillors who work tirelessly for their constituents in Fermanagh should be condemned by people from across the political spectrum. I challenge unionist representatives to speak out and intervene directly."
The Fermanagh/South Tyrone MP said there is a responsibility on the political leaders of unionism in Fermanagh to demonstrate that they respect the rights of nationalists and their elected representatives.
ANTRIM
Meanwhile, Antrim Sinn Féin Councillor Anne Marie Logue (Crumlin) was informed twice within a week by the PSNI that it has information that unionist paramilitaries "attempted to carry out an action" against her on 29 August.
Councillor Logue said:
"At 2am on Thursday, 28 August, the PSNI called to my home and informed me that they had information that unionist paramilitaries intended to shoot me. They seemed to take the threat seriously enough to sit outside my home throughout the night.
"At 11:30pm this morning, Tuesday, 2 September, the PSNI once more informed me that it had further information that indicated that unionist paramilitaries had 'attempted to carry out an action' against me on 29 August.
"The PSNI will not expand on the minimal information that they provided me which seriously limits the protective measures that I can take for myself and my family.
"The question that I would like the PSNI to answer for me is this: are the weapons that these people are intent on shooting me with the same weapons that Assistant Chief Constable Peter Sheridan recently admitted the PSNI know the location of?"
Councillor Logue's colleague, Mitchel McLaughlin MLA (South Antrim), said:
"Anne Marie Logue is a hard-working councillor who works diligently for all the constituents of Antrim regardless of political or religious persuasion. I call on whoever issued this threat to withdraw it immediately.
"I also call on unionist political leaders to stop playing politics with an IRA that has left the stage and to use their undoubted influence on those within their own constituency who are still in possession of massive arsenals and are intent on using them."