28 August 2008 Edition
Fógraí bháis: TP Ennis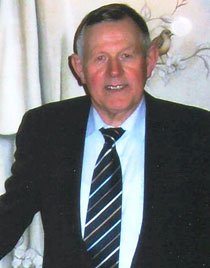 THE death occurred on Tuesday week past, 19 August, of life-long Cavan republican TP Ennis. A native of Clareboy, Carrickaboy, TP was a brother of the late Volunteer Joe Ennis, who pre-deceased TP by 15 years. Both brothers were committed republican activists in their native County Cavan.
TP passed away while on a short holiday in Portugal. On his return to Ireland on the Sunday, his Tricolour-draped coffin was borne through Cavan Town, led by a lone piper and escorted by a republican guard of honour to the chapel at Drumkilly. Many hundreds of republicans from the border counties and further afield gathered with the local community that evening and again on Monday morning for the funeral Mass and interment.
Proceedings at the graveside following the burial were chaired by Cavan County Councillor Pauline McCauley. The oration was delivered by Cavan/Monaghan TD and Sinn Féin Dáil leader Caoimhghín Ó Caoláin.
We carry an edited version of his address:
Thomas Patrick – TP – was the second child born to Julia and Andy Ennis at Clareboy in the parish of Crosserlough. He was pre-deceased by his parents, his father having lost his life in tragic circumstances. TP's only brother, Joe, passed away at the young age of 43.
TP was a lifelong student. An avid reader, he was well informed on not only the issues of national importance here in Ireland but on the affairs of near and distant peoples and nations. TP was a true internationalist, a deeply concerned and caring human being for the rights of people the globe over, a champion against injustice and inequality wherever this ugly duo raised their hydra head.
But TP's heart and soul was first and foremost in the struggles of his own people, the people of his home community and the challenges they all faced in common, including forced economic migration and emigration. Foremost in TP's mind was the struggle of his country to achieve full national independence and sovereignty. TP, like his younger brother Joe, dedicated his life to the cause of Ireland's freedom, to the reunification of not just the landmass of the island of Ireland but of all its people, irrespective of what tradition they held to or came from.
TP was a political activist and an example to all. And, yes, it can be said, and I hope it is noted that I do so with a warm smile, if there was an awkward way of looking at an issue of debate TP often obliged.
TP was very proud of our 1997 achievement when we won our first Cavan/Monaghan Dáil seat and its successful defence in 2002 and again last year in 2007. He was a former cathaoirleach of County Cavan Sinn Féin and he also proved a very able secretary of that same body.
He was particularly proud of the new party offices in College Street where, it was said to me again yesterday, his hand could still be seen in all the big and little jobs done.
TP was also very proud of Cavan Sinn Féin's local election successes, the 2004 result seeing the election of three Sinn Féin councillors to Cavan County Council: Pauline, Charlie Boylan and Paddy McDonald.
But it was not all politics or grand causes.
There was the serious business of Gaelic football, whether it was playing in midfield with Crosserlough or full-back with Ballinagh. TP served in the ranks of both teams and served well. Can you imagine facing him in that full-back position and his gritty determination to stop you at all costs?  Rather you than me.
He was a proud Cavan County medal holder and was a passionate supporter of the Breiffne County on the field of play.
TP was, of course, both a local and national historian. He would spend countless hours and travel long distances researching the facts of whatever subject he was pursuing. A keen amateur cameraman, he has recorded countless events on video in recent years. His work is a valued record of so much that has occurred in times recent and past in his local community and throughout County Cavan.
I wish to conclude this brief tribute by quoting the opening verse of a poem entitled The Day and sung, we are told, by our gallant heroes in the GPO in Easter Week 1916. Before I do that I wish, on behalf of all here present to extend heartfelt sympathy to TP's daughters, Eleanor and Grace, who are here with us and to his sons, Patrick and Charles, and to Sarah. Our sincere sympathy too to his sister, Kathleen, and to all the extended Ennis and Caffrey families on their great loss.
O God rest you, Robert Emmet,
and God rest you, noble Tone;
God rest you, Hugh O'Donnell,
and O'Neill of brave Tyrone.
God rest you, Patrick Sarsfield,
in your grave far, far away;
God rest you all who strove to speed
the Dawning of the Day!
God rest you TP Ennis