28 August 2008 Edition
Case against Tyrone republican is dropped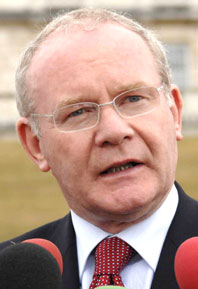 TYRONE republican Brian Arthurs was acquitted last week of trumped up charges that were made against him last year in what was condemned by republicans at the time as a politically motivated operation.
Sinn Féin MP for Mid-Ulster, Martin McGuinness welcomed the dropping of all charges against Arthurs after a judge dismissed the case because the prosecution had failed to provide any evidence against him.
Speaking on the day the charges against Arthurs were dropped McGuinness said:
"Last year, Brian Arthurs' home was raided and he was arrested by the PSNI. After this a number of charges were put to Brian and significant media briefings followed. Sinn Féin condemned the arrest and subsequent charges and pointed to a political motivation behind the entire episode.
"At the time we were criticised for our response to this operation by unionist parties. Our stance has today been vindicated and those within unionism and within sections of the media who attempted to try and convict Brian Arthurs without so much as a shred of evidence have now been exposed.
"Now that all of these charges have been dropped it will be interesting to hear the response of those who were the public cheer-leaders for the original arrest operation. Meanwhile, I wish Brian and his family all the best as they seek to put this entire unnecessary situation behind them."
Speaking to reporters after the case against him was dismissed, Brian Arthurs said his arrest was a "political stunt" in the run up to the 26 County general election.
" I was arrested in an attempt to damage Sinn Féin's chances', he said.
"Within an hour of my arrest the media was reporting my name on  television.
"My wife and children were held under house arrest for five hours."
Arthurs, who had made numerous complaints to the Police Ombudsman about his treatment pointed out that his mother "was dying when all this was going on and passed away in February not knowing if I was going to be able to clear my name".