28 August 2008 Edition
DUP blocking multisports stadium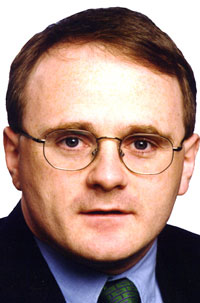 SINN FÉIN MLA and chairperson of the Assembly's Department Culture Arts & Leisure (DCAL) Committee, Barry McElduff, has said that comments made by Jeffery Donaldson expressing regret that the Six Counties would miss out on 2012 Olympic action because of the failure to proceed with the stadium at Long Kesh ignored completely the fact that all of the delays are because the DUP is internally split on the issue.
Barry McElduff said that many people would be surprised at Jeffrey Donaldson's comments.
"The reality, of course, is that this has not happened because the DUP is split wide open on the issue. Edwin Poots, Gregory Campbell, Nigel Dodds and Peter Robinson have messed around with this issue and have yet to even bring a paper on the Long Kesh site to the Executive.
"Jeffery Donaldson's comments could be taken more seriously if his party was not blocking the multisports stadium and with it a massive capital investment which is much-needed in the current economic climate."