28 August 2008 Edition
DUP needs to act on dialogue commitment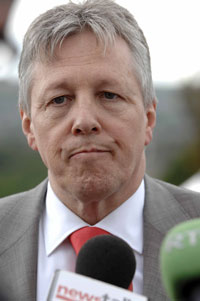 SINN FÉIN Assembly member Alex Maskey said on Tuesday that it is important that the DUP now acts on the commitment it made in Downing Street in June to enter a period of intensive discussions to resolve a range of political issues outstanding since the St Andrew's Agreement.
Maskey said that it is well known that there are a number of outstanding issues arising from the St Andrew's Agreement which need to be resolved. In June this year, in Downing Street, he pointed out, the DUP committed themselves to entering into a period of intensive dialogue with Sinn Féin to resolve these issues.
On Tuesday, he said:
"This process of intensive engagement has not materialised satisfactorily. Now that Mr Robinson has returned from his holidays, it is vital that he brings a focus to the DUP approach and that the process necessary to resolve outstanding issues now finally gets underway in a serious way.
"If this happens, and if the necessary political will is demonstrated, then I am convinced that progress can be achieved and outstanding issues effectively addressed."
SDLP PARANOIA
Last week, Alex Maskey said that SDLP MLA Margaret Ritchie is either suffering from "extreme paranoia or delusions of grandeur" after she attempted to suggest that there was a grand conspiracy underway to stop her party taking the position of Justice Minister.
"The recent enthusiasm being displayed by the SDLP to assume a future Justice ministry is interesting given the fact that the SDLP never previously argued for such powers to be transferred! Indeed, in 2001 the then SDLP deputy leader, Seamus Mallon, told us that no further policing legislation was possible. Sinn Féin's negotiating strategy proved him wrong and further important changes were secured in legislation.
"Many nationalists will be disappointed that at a time when maximum pressure needs to be maintained on the British Government to deliver its St Andrew's Agreement commitments in this area that senior members of the SDLP choose once again to put narrow self-interest ahead of ensuring that these powers are transferred speedily.
"Margaret Ritchie's latest contribution is to allege a grand conspiracy amongst the other parties and the governments against her party. The reality is, of course, very different. Margaret Ritchie is suffering either from a case of extreme paranoia or delusions of grandeur.
"I can assure her that the position of the SDLP has played no part in any of our discussions on this issue and it is beyond me why Margaret Ritchie would think that her party's position would be an issue for Sinn Féin at a time when the sole focus needs to be on ensuring delivery from the British Government."