28 August 2008 Edition
'Shell to lay 6,000 rusting pipes in Corrib'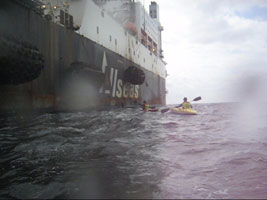 SHELL EP Ireland is seeking to deploy the world's largest pipe-laying ship to work in Broadhaven Bay as part of its plans to construct the controversial Corrib gas pipeline.
The Solitaire is expected to arrive in Broadhaven Bay this week and the campaign organisation Shell to Sea says its cargo contains more than 6,000 rusting pipes.
The pipes, which Shell hopes to use to carry gas from Corrib Gas field to Bellanaboy, were delivered in 2002 and for the last six years have been gradually rusting away in Killybegs.
In 2006, a Killybegs fisherman who says that he was employed to clean the pipes claimed that the cleaning process was "a joke and a waste of time" and that Shell had decided that shot-blasting and painting were "too dear".
Shell to Sea representatives have said that it is illustrative of Shell's whole attitude that the Solitaire is planning to begin pipe-laying in proximity to people's houses when serious question marks exist over the integrity of the pipes.
Shell to Sea campaigner Terence Conway said:
"Now you have the situation where Shell will be laying rusted pipes around a landfall area with a history of landslides, which Minister Eamon Ryan recently exempted from the planning process.
"While obviously Shell doesn't design these pipelines to fail, the evidence is that their penny-pinching has previously resulted in accidents in which people have been killed."
Previous reports have highlighted serious concerns regarding the effects internal corrosion will have on the integrity of the proposed pipeline.
PROTEST IN THE SEA
Eight Shell to Sea protesters were arrested last week at Glengad beach after they entered the water to stop pipeline dredging work. Dinghies, surfers and swimmers surrounded the machine and stopped work on Thursday, 21 August.
According to protesters, three gardaí in a Garda boat began making the arrests and taking the boats at 10.55am. They claimed the gardaí were assisted by Shell security men who "held a protester until he could be arrested". Shell to Sea reported that work recommenced at 11.40am when the dredging machine picked up large amounts of debris from the seabed and "dumped it within inches of the protesters".
Mary Campbell, who witnessed the events on the water said:
"It was so dangerous. The huge dredging machine continued working right over those lads' heads and then the gardai half-drowned them. It's amazing no one was killed. It's a crime that the gardaí can work for Shell like that."
The initiative was part of a Shell to Sea week of action against the pipeline. Protesters have vowed to continue until pipeline work stops.