28 August 2008 Edition
OPINION : Is Sinn Féin getting it right on university fees?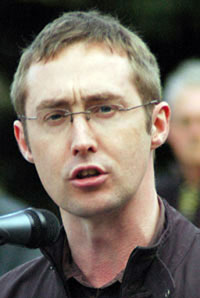 Equal access to education?
BY EOIN Ó BROIN

IS Sinn Féin getting it right on university fees? Speaking in response to Education Minister Batt O'Keeffe's kite flying on fees two weeks ago, Sinn Féin Senator Pearse Doherty said: "Sinn Féin is opposed to the reintroduction of third-level fees. Education is a right, not a privilege, and it is the responsibility of the state to ensure its provision."
Doherty went on to say:
"The abolition of fees in the mid-1990s was a progressive move that has been fundamentally undermined by successive Fianna Fáil-led governments who have failed to invest the economic boom in the country's future."
But is all of this true?
Was the abolition of fees a progressive move? Did it make third-level education more accessible? Are there more young people from disadvantaged backgrounds in university today, in real and percentage terms, than before the abolition of fees?
The answer is that it's just not that clear. There is no doubt that there has been a massive increase in the number of students attending third-level education since the mid-1990s. However, the bulk of this increase has been from the middle rather than working class.
Not only has the absence of fees made college more accessible to middle- and high-income families, but evidence suggests that the money saved was invested in school fees and grinds at second level, further increasing middle-class advantage.
The primary problem here, of course, is not the question of fees but the unequal nature of our primary and secondary education systems. Senator Doherty is right to blame successive Fianna Fáil governments for their failure to invest in education.
However, in the context of such gross inequalities, in access and outcomes, the abolition of fees by Labour Party Education Minister Niamh Bhreathnach in 1996 made a bad situation worse. Rather than increase educational opportunities for young people from low-income backgrounds, it simple increased the advantage of the middle classes.
The announcement of a debate on university fees by Batt O'Keeffe is not, of course, the opening of a serious debate about inequalities in our education system. Fianna Fáil is responsible for those inequalities, both through its support for private schools and its under-investment in primary and secondary education. The present funding crisis at third level is also a consequence of bad government policy.
However, the idea that the return of fees will undermine access to university and negatively affect low-income families is questionable, especially in light of Minister O'Keeffe's claim that fees would only apply to families earning in excess of €100,000 a year.
Some rightly warn that this would be the thin end of the wedge. Others doubt that such a restriction would generate sufficient revenue to address the existing funding deficit.
But the argument that the introduction of fees would undermine 'free' access to education simply does not stand up. Families who currently spend thousands of euro a year on private school fees at secondary level would clearly be able to do so when their children attend university.
If the threshold for university fees was set at an appropriate level, access would not be affected at all.
Senator Doherty is right when he argues "education is a right not a privilege". He is also right to argue that state has a responsibility to ensure universal access to high-quality education at all levels to all social classes.
Achieving this objective, though, would not only require spending 6 per cent of current GDP on education, it would also require a radical overhaul of our tax system, both to increase the overall tax take and to distribute the tax burden more fairly across society. With one of the lowest tax takes in the EU and one of the most inequitable tax systems in the OECD, we can never hope to improve our public services without addressing this fundamental problem.
On this issue Senator Doherty has little to say. Sinn Féin cannot credibly argue for government to increase public expenditure if the party is not willing to explain exactly where this money will come from.
So Sinn Féin has two choices: either argue for increased investment at primary, secondary and tertiary levels to improve access and reduce inequalities, which in turn requires accompanying increases in taxation; or argue for the reintroduction of third-level fees for middle- and high-income families, targeting the additional revenue secured into specific measures at primary and secondary level to reduce educational disadvantage and increase low-income access to third-level education.
Our current position, like that of Labour and the Greens, is simply a defence of middle-class privilege. Why on earth would we want to do that?

An Phoblacht Magazine
AN PHOBLACHT MAGAZINE:
Don't miss your chance to get the second edition of the 2019 magazine, published to coincide with Easter Week
This special edition which focuses on Irish Unity, features articles by Pearse Doherty, Dr Thomas Paul and Martina Anderson.
Pearse sets out the argument for an United Ireland Economy whilst Pat Sheehan makes the case for a universally free all-island health service.
Other articles include, 'Ceist teanga in Éirinn Aontaithe', 'Getting to a new Ireland' and 'Ireland 1918-22: The people's revolution'.