21 August 2008 Edition
Terrifying yet uplifting tale of life on the Blanket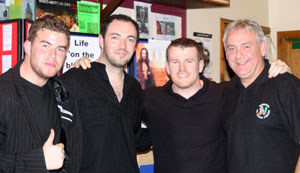 Blanketman, a new play by playwright Kieron Magee was staged at the Andersonstown Social Club on Tuesday 5 August as part of Féile an Phobail.
Staged by Tread the Boards, the play was given it's first airing as a rehearsed read.
Blanketman depicts the terrifying yet uplifting tale of 18-year-old Harry Larkin who arrives in the H-Blocks in September 1979. Harry, played by the watchable and highly entertaining Kevin Keenan, gets 'doubled up' with Jim Corbett, a three-year veteran of the 'Blanket' and 'No-Wash' protests.
Unfortunately, Harry has arrived on H3 on the day of a wing shift.  To make matters worse, Class Officer Robinson, a tyrannical screw with a penchant for whisky is taking bets with his colleagues that he can make Harry conform and wear the prison uniform on the first day.   Paul Kennedy, an established actor of some renown, played the part of veteran Blanketman Jim Corbett with a wry cynicism that had people rolling in the aisles with laughter.
Full of incessant black humour, the rehearsed read provided a glimpse  of what it must have taken to survive in such a brutal environment.
Narrated by Bik McFarlane, a former Blanketman, the read was an unqualified success and received a standing ovation at the end.