14 August 2008 Edition
Fifth Column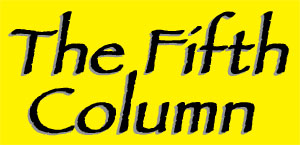 Olympics colour party passion
THE Olympic flame that is burning in Beijing has lit a smouldering passion in the hearts of millions of young Chinese women fired up by the good looks of one of the young guards who defended it against pro-Tibet protesters across the globe.
Only know as 'Second Brother on the Right' because that was his position in the flame's close-protection group on the torch relay, the handsome hunk has become a nationalist hero in China. His solid determination to protect his nation's honour combined with his good looks and unwilting good nature has won him widespread admiration and proposals of marriage from young Chinese.
He has been compared to Lei Feng, an idolised soldier in China's revolutionary army under Mao Zedong.
One young fan posted 542 online pages of poems and pix dedicated to her idol.
A website entry about the anonymous new hero says of his army of admirers.
"They praised him for his 360-degree handsome look, well-built body in perfect proportion, refined and exemplary postures, smile and courtesy to torch bearers, his pals and audience, and determination to safeguard the Olympic spirit.
"In torch relay pictures, he stayed calm and confident during violent situations, and gracious, graceful and proud in most others... Those stars or idols lacking an unpolluted and vigorous temperament are not attractive any longer."
Other guards aren't without their fans, though. One has been dubbed 'Leading Handsome', 'Ravishing Hand' and 'Kindness'. Though I'm not too sure what Leading Handsome's mate thinks about being called 'Noodle Soup'.
Republican colour parties, eat your hearts out.


Lost leader
RAY D'ARCY'S morning show on Today FM ran a competition last week for a car but had to find a way of whittling down the last 50 entrants to a manageable number.
Ray's team asked ten questions in a general knowledge quiz, one of which related to the leader on of the three Government parties.
"Who is the leader of the Progressive Democrats?"
How many knew from the 50? Just three.
(Answer: It's Ciarán Cannon.)


The French Connection
INTERESTING JUXTAPOSITION in the 'War on Terror' last week as Osama bin Laden's driver was found guilty of "supporting terrorism" as we went to press.
While the Guantanamo military court was sentencing bin Laden's ex-driver, Salim Hamdan, to 66 months in prison, the Rwandan Government was calling for the prosecution of a number of 13 senior French politicians and 20 military officers over the 1994 genocide of 800,000 thousands Rwandans who were Tutsis.
French forces in Rwanda have been accused of crimes against humanity and of using a UN-sanctioned haven for refugees to help those responsible for the 100 days of mass killings. 
The two-year investigation has accused the former president of France, François Mitterand, and more than 30 senior French officials of aiding the killers. Although Mitterand died in 1996, others among the 13 indicted in the Rwanda report are still alive. These include former prime ministers Edouard Balladur and Dominique de Villepin; and former foreign ministers Alain Juppe and Hubert Védrine.
Rwanda's Justice Ministry has called on the French Government to co-operate in getting the accused to face justice.


White House going Orange?
IF Irish-Americans ever needed another reason to oppose the Dubya-annointed US Republican Party candidate for the White House, here it is: John McCain is a descendant of one of King William's officers at the Battle of the Boyne.
Barack Obama's family line comes from a humble shoemaker in Moneygall, County Offaly. Now University College Dublin genealogist Seán Murphy has discovered that Obama's rival's  great-great-great-great-great-great-grandfather was a Billy boy in 1690. Captain Dixie Coddington was born in Skerries, County Dublin, and he fought for King Billy at the Boyne. A Coddington family relative later "acquired" the Oldbridge Estate in County Meath which includes the site of the Battle of the Boyne.
The Orange Order is naturally delighted. Grand Secretary Drew Nelson says:
"I don't know if Senator McCain's forefathers were members of the Orange Order but we do have lodges in America and anyone who qualifies to join is very welcome."
And anyone who qualifies to join the Ku Klux Klan is very welcome there too.


To support and protect
GERMANY'S police have unveiled their latest weapon: the 'bullet-proof bra'.
Ordinary bras worn previously by women gang busters under their bullet-proof vests contained wires or plastic bits that could get pushed by the impact of a bullet into the breast or body, causing significant wounds. The new bra has dispensed with these naughty bits and female cops now go out feeling that little bit safer.
Now maybe my wife will stop quizzing me about all that women's underwear she found hidden in my wardrobe which I told her I couldn't explain. She just wouldn't have believed me if I told her that I was secretly working for years on bullet-proof bras for the IRA and the German police beat me to it.
I'm glad I've got that off my chest.

An Phoblacht Magazine
AN PHOBLACHT MAGAZINE:
Don't miss your chance to get the second edition of the 2019 magazine, published to coincide with Easter Week
This special edition which focuses on Irish Unity, features articles by Pearse Doherty, Dr Thomas Paul and Martina Anderson.
Pearse sets out the argument for an United Ireland Economy whilst Pat Sheehan makes the case for a universally free all-island health service.
Other articles include, 'Ceist teanga in Éirinn Aontaithe', 'Getting to a new Ireland' and 'Ireland 1918-22: The people's revolution'.