14 August 2008 Edition
British Army choppers challenged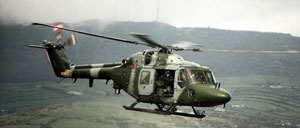 A Sinn Féin delegation from South Derry has met with Paul Goggins, Secretary of State to discuss the issue of British Army helicopters in the area. In a joint statement, Francie Molloy MLA, Councillor Ian Milne and Councillor Peter Bateson said:
"In response to a large number of complaints from local residents we have met with Paul Goggins in an attempt to end the practice of low flying British Army helicopters.
"It is not enough to be told that the helicopter activity is not as has been our previous experience, to spy, to terrorise and invade our lives but rather to train new British Army personnel to conduct this same activity in other parts of the world.
"It is simply unacceptable that people who have suffered so much at the hands of the British Army should be confronted on a regular basis with an activity we thought was consigned to the past.
"Much of this activity is carried out at night and close to the ground, which not only frightens people, particularly those living alone, but spooks livestock and horses and has already led to serious injury.
"The British Army is an occupying force, therefore any kind of manoeuvres being carried out will always be viewed with suspicion. If we are to believe the British Government are serious about their role in creating a stable society then they must play their part in removing this very visible image of war."