14 August 2008 Edition
Kite-flying on third-level fees distracts from real issues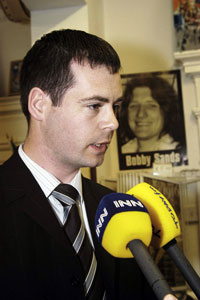 NOT for the first time, a Fianna Fáil Government minister has flown a kite about the possibility of reintroducing fees for third-level education in the 26 Counties. The kite-flying exercise caused a political flurry but served only to distract attention from the real issues of continuing inequality of access to higher education.
Education Minister Batt O'Keeffe said that the reintroduction of third-level fees would be on the Government's agenda but his kite was quickly hauled in by Fianna Fáil's coalition partners in the Progressive Democrats and the Greens, who said it was not Government policy.
Sinn Féin Education spokesperson Senator Pearse Doherty expressed the party's opposition to the reintroduction of the fees.
"Education is a right, not a privilege, and it is the responsibility of the state to ensure its provision.
"Despite being one of the wealthiest states in Europe, our educational expenditure is one of the lowest.
 "The abolition of fees in the mid 1990s was a progressive move but has been fundamentally undermined by successive Fianna Fáil-led governments.
"With third-level registration fees set at €825 and a lack of student supports such as childcare and accommodation supplements, students and their families already shoulder a considerable financial burden. Mature students have, in most instances, to pay full fees when they seek to upskill or reskill.
"Government regularly talks up the need for a knowledge economy but in real terms has never seriously invested in nor planned for it."
MYTH OF FREE EDUCATION
Meanwhile, Sinn Féin Dáil leader Caoimhghín Ó Caoláin TD said the study published last week showing that the cost of educating a child up to and including third level is over €61,000 puts an end to the myth of free education.
These costs are hardest felt by those families on low and middle incomes. Ó Caoláin said:
"The current 'back to school' allowance is totally inadequate and needs to be increased. Sinn Féin will oppose any cuts in the 'back to school' allowance in Budget '09.
"The €80 million that is provided annually to private schools should be redirected to the public education system to ease the burden on low-and middle-income earners.
"On top of the costs of uniforms and books and other equipment, parents have the added burden of feeling that they should contribute to the costs of running and maintaining their children's schools. The capitation grant only covers 50 per cent of school running costs leaving boards of management and parents to fundraise for the remaining 50 per cent. Sinn Féin is calling for the capitation grant to be doubled to take away the added burden on parents.
"If we are truly to build the knowledge-based economy that we so often talk about then investment in education must be forthcoming. If the money is not in the coffers to do this then I would suggest that the state borrows to cover this capital expenditure, which will benefit the economy in the longer term."