14 August 2008 Edition
Fishermen table five demands in quota clash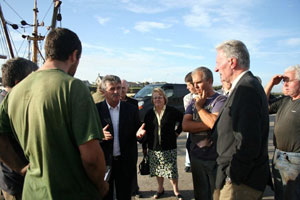 FISHERMEN have called for a review of quotas following a meeting with Wexford Sinn Féin councillors after clashes with the Sea Fisheries Protection Agency over fishing laws.
Wexford Sinn Féin councillors and Sinn Féin TD Arthur Morgan (who was deputising for the party's Fisheries spokesperson, Martin Ferris) met a number of fishermen and their families as the row with the authorities simmers. Last month, the Emer Jane, belonging to the O'Flaherty brothers was detained at Kilmore Quay after a naval vessel reportedly threatened to fire across its bows.
Fishermen are at odds with state and EU regulators over the way quotas are decided and operated, claiming they are inadequate and don't make sense.
Séamus O'Flaherty addressed the meeting of families and Sinn Féin reps, including Councillors Maurice Roche, Anthony Kelly, John Dwyer and Nóirín Sheridan.
"It's hard to keep going. The September to Christmas period is always the best time of the year for us. We have the best catches, the best prices at that time, but this year our quotas are already nearly gone."
One fisherman said:
"The Fisheries Protection Agency demonises Irish fishermen and the whole system in Ireland protects the interests of those fishermen from France, Spain, and Belgium who trawl our waters unhindered and unchecked.
"We can see the Belgian and French 40 metre trawlers working away from the quay here, while we are grounded for lack of quotas."
Skipper John Kenny spoke passionately of their desperation. He said that he will never again throw a dead fish back into the sea.
"This is a sin and a crime against humanity. Denis Carberry of Donegal had to dump 120 tonne of dead mackerel back into the sea. If you came into the harbour and did that, you would be arrested for pollution – but if you bring them back in and land them, the Fisheries Protection Agency will arrest you for over-fishing!
"There is no anti-pollution law outside of the 12-mile limit. This is an anti-conservationist, anti-human law and it must be overturned."
WINNING BUT LOSING
Skipper Mark Cullen spoke of having been dragged through the courts by the Government and he won his case. However, the Government does not pay legal costs and he now has a €43,000 bill that he can't pay. So what can fishermen do? Do they fight their case and take on massive, unpayable legal bills, or do they allow themselves to be criminalised?  It's a lose/lose situation, he said.
The fishermen have five demands which will be followed and brought to all forums:–
1     There must be a quota review. Proper quotas are required across the EU;
2     Discards must stop. The landing of discards must be facilitated. The practice of throwing back dead fish is just not acceptable;
3     Regulation, not criminalisation;
4    Imports into the EU must be addressed. This practice brings further problems to Irish fishing;
5    Short-term aid now.
The fishermen said that Sinn Féin is the only party to have really weighed in behind them but they are looking for all-party and wide public support to save their livelihoods and the fishing industry.  Further meetings are planned.