14 August 2008 Edition
Children at risk to suffer from HSE cuts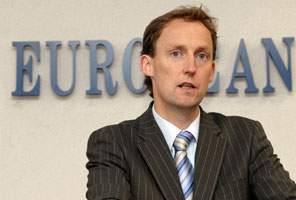 THE Health Service Executive has decided to abandon plans for a long-promised round-the-clock service for troubled and at-risk children. This is the latest cut to be announced as reports come in on the effects of cutbacks on patients across the health services.
The crisis in social care for children in the 26 Counties was recently highlighted in an RTÉ Prime Time documentary that led to demands for more social workers and a 24-hour on-call service to be provided. The HSE announced plans to provide such a service but on 8 August stated that these plans were to be abandoned due to spending cutbacks.
Sinn Féin Health & Children spokesperson Caoimhghín Ó Caoláin TD described the HSE decision as "appalling". He said that if the Minister for Children, Barry Andrews TD, does not secure the reinstatement of the plan then he is not fit to be the minister and should resign. Ó Caoláin said:
"There is a crisis in child protection in this state. This has been highlighted repeatedly with insufficient numbers of social workers unable to cope with the task of protecting vulnerable children.
"The Children's Ombudsman, gardaí and the office of the Minister for Children himself have pointed out this huge deficiency in our social services. It beggars belief that, in the face of this crying need, the HSE is now to abandon plans for long-promised and absolutely essential improvements in care for vulnerable children.
"Minister for Children Barry Andrews must secure the reversal of this disgraceful decision. If he does not do so then he is not fit for office and should resign."
CANCER PATIENT LEFT IN DARK
Typical of the way cuts are now affecting patients is the case of a cancer patient attending James Connolly Memorial Hospital in Dublin as highlighted by Sinn Féin Councillor Paul Donnelly (Blanchardstown). Councillor Donnelly told An Phoblacht:
"I received a call from a very upset and angry constituent who had been allocated a time for a blood test. However, after fasting since the previous evening, he was met with a closed out-patients' department.
"He spoke to nurses who were in the department and they informed him that there were no services available. He refused to leave and eventually did get the blood test. He said that he was assured that even though the out-patients' department was closing for a time, cancer patients would continue to receive treatment. He said that he did not receive any notification that his appointment was cancelled and is very anxious that he gets the appropriate treatment.
"It is bad enough to be suffering from a life-threatening disease without having the extra stress of not knowing whether appropriate and timely services are going to be provided. The staff on the frontline are bearing the brunt of patients' frustrations but the blame lies squarely on the shoulders of Fianna Fáil, the PDs and the Green Party."
SERVICES AT STANDSTILL
On Monday, Sinn Féin Health & Children spokesperson Caoimhghín Ó Caoláin TD highlighted a crisis in dermatology services in the north-east HSE region comprising Counties Cavan, Monaghan, Louth and Meath.
With a chronic waiting list in the Lourdes Hospital in Drogheda and St James's Hospital in Dublin unable to take patients from outside its official catchment area, Deputy Ó Caoláin has revealed that patients are being referred by doctors to private service-providers in the Six Counties to whom they have to pay fees. The Sinn Féin Dáil leader said:
"Dermatology services in the north-east region have ground to a halt. GPs in the region have been written to by the Dermatology Department in St James's Hospital, Dublin, to inform them that St James's will no longer take referrals from this region or any other region outside its own catchment area due to the limitations of 'current resources'.
"The regional referral centre for the north-east is the Lourdes Hospital in Drogheda. The waiting list for dermatology at the Lourdes is chronic. It is so bad that GPs in the north-east are now referring patients requiring dermatological treatment to private service-providers in the Six Counties. Patients are paying fees for treatment to which they are entitled free of charge.
"This is a disgraceful situation and is causing distress to patients. It is yet another manifestation of the real effects of health cuts on real people, contrary to the false claims of Health Minister Mary Harney and HSE Chief Brendan Drumm that the cuts would not affect patient care."
Health Minister Mary Harney has decided not to proceed with the recommended catch-up vaccine for cervical cancer for girls aged 13 to 15.
A comprehensive vaccination programme against cervical cancer has been long demanded and was finally conceded by Government after much pressure. This form of cancer kills some 70 women in the 26 Counties every year.
The Minister's announcement of the roll-out of a vaccination programme for 12-year-olds from 2009 was welcomed but her decision not to proceed with the catch-up programme for 13s to 15s was described as "atrocious" by Caoimhghín Ó Caoláin.
The catch-up programme was recommended by the Health Information and QualityAuthority (HIQA) and will be implemented in the Six Counties and Britain.
Ó Caoláin said:
 "The minister has made this decision to make a short-term, so-called saving, cutting a once-off spend of some €30 million but at far greater long-term cost in terms of the health of women and the costs of treatment. This decision must be reversed."