14 August 2008 Edition
Special Branch agents may face prosecution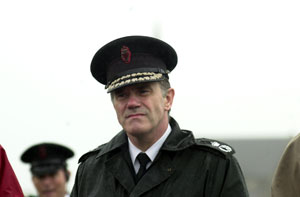 Agents in the dock but handlers to go free?

BY LAURA FRIEL

TWO loyalists charged with murder may give evidence against UVF killer and Special Branch agent Mark Haddock as well as other agents believed to be members of the same UVF gang.
A number of senior loyalists are believed to be in hiding after it emerged that North Belfast brothers David and Robert Stewart may be providing information about the notorious Mount Vernon UVF unit.
The brothers appeared at Belfast Magistrates Court last week charged with the murder of UDA member Tommy English and UVF membership. English was shot dead in October 2000 during a feud between rival loyalist factions which left seven dead. Both men were held on remand.
Following their arrest, widespread rumours have circulated that the Stewart brothers are prepared to give evidence against Mark Haddock and other members of the Mount Vernon UVF in exchange for reduced charges.
Mark Haddock, a notorious serial killer, was confirmed to be a Special Branch agent during an investigation into the murder of Raymond McCord Jnr by the Ombudsman last year. A number of other members of the Mount Vernon UVF are also believed to be Special Branch agents.
McCord Jnr was kicked to death during a brutal attack by members of the Mount Vernon UVF in November 1997. Following the murder of his son, Raymond McCord Snr became increasingly concerned at the apparent unwillingness of the RUC to carry out a proper investigation.
After discovering his son's murder had been carried out on the orders of a named Special Branch agent and member of Mount Vernon UVF, McCord requested an investigation by the Police Ombudsman. The agent was later revealed by the media to be Mark Haddock.
In her report the then Police Ombudsman, Nuala O'Loan described Mark Haddock as a "protected species": in other words, beyond prosecution despite evidence of his involvement in at least 16 murders, 10 attempted murders, 23 paramilitary-style shootings and beatings, drug dealing, extortion, arson and intimidation.
The report found a "pattern of work" by certain officers within Special Branch designed to ensure that agents such as Haddock and his associates were "protected from the law".
Measures to protect their agent taken by Special Branch included 'babysitting' Haddock through police interviews, allowing him to change his appearance to thwart eyewitness evidence, ignoring admissions of involvement in a number of murders, hiding his whereabouts during a murder manhunt, and lying about his criminal activities.
Special Branch 'babysat' Haddock when he was questioned about the 1991 sectarian murder of Peter McTasney and again when he was questioned about the murder of Catholic taxi driver Sharon McKenna.
26-year-old Peter McTasney, a community and youth worker, was shot dead by a UVF gunman in the living room of his Newtownabbey home. Sharon McKenna, described as a 'Good Samaritan' was shot dead while caring for an elderly Protestant friend of her family by two UVF gunmen, both Special Branch agents at the time of the killing.
Despite having previously admitted to the murder of Sharon McKenna, Haddock was released without charge and given £500 to go on holiday.
Cover-up interviews, in which initial admissions by a Special Branch agent are covered up by a subsequent replacement interview in which no admissions are made, appear to be a common feature in the way Special Branch prevents criminal prosecution of their agents and ultimately themselves.
A taped interview conducted by CID Detective Johnston Brown in which loyalist gunman Ken Barrett confessed to the murder of Belfast defence lawyer Pat Finucane was replaced by a subsequent interview conducted by Special Branch in which no admissions were made.
The replacement scam was exposed after 'Jonty' Brown alerted the Stevens Inquiry team of the original taped confession. The detective faced perverting the course of justice charges after the tape produced by Special Branch didn't tally with his recollections. A passing reference to a killing that took place days after the date of the falsified tape exposed the scam but no Special Branch officer was ever charged.
Special Branch even refused to intervene to stop Haddock even when they had information that he was about to commit a murder. In February 1994 they knew of a UVF murder plot and Haddock was seen in the area but no action was taken.
The following day, Catholic Seán McParland was shot dead. Haddock later admitted his role in the murder and identified another Special Branch agent as the gunman. Neither agent was charged.
In May 1994, Haddock was arrested after the killer of Catholic workmen Gary Convie and Eamon Fox was described as having a goatee beard. After his arrest, Haddock was allowed to shave off his goatee and no identity parade was ever held.
Less than a month later, Haddock was one of two gunmen who shot dead Catholic taxi driver Gerard Brady. The Police Ombudsman found both gunmen were Special Branch agents.
No action was taken after Haddock admitted killing UVF member Thomas Sheppard in March 1996. A year later, no action was taken following information that Haddock and three others had beaten Protestant John Harbinson to death. Forensic evidence which may have connected Haddock to the killing was destroyed as "a health hazard".
In October 2000, Haddock's Special Branch handlers insisted he was not involved in any criminal activity despite the fact that he was the main suspect in the murder of Tommy English. During Haddock's killing spree he was paid at least £79,000 by Special Branch.
The Police Ombudsman concluded that Haddock's activities had never been challenged by his Special Branch handlers and "those who sought to bring him to justice were blocked repeatedly".
Welcoming the charges brought against the Stewart brothers, Raymond McCord Snr praised the PSNI Chief Constable Hugh Orde and Assistant Chief Peter Sheridan.
"They said they'd ensure a proper investigation of what the Mount Vernon UVF were allowed to get away with and that's what they've done," said McCord.
But how can it be considered 'proper' when those running the Mount Vernon UVF, those Special Branch handlers who allowed agents like Mark Haddock and others within the gang to murder and engage in other serious criminality with impunity while rewarding their crimes with payments from the public purse, are not even facing investigation let alone charges and convictions?
During the Police Ombudsman's investigation into the McCord murder, three former heads of Special Branch – Chris Albison, Freddie Hall and Raymond White – refused to co-operate. Interviews conducted with former Chief Constable and head of Special Branch Ronnie Flanagan were described as vague and possibly evasive.
During Haddock's reign of terror, Ronnie Flanagan held key positions within the RUC, including Divisional Commander for Greater Belfast, Operations head, head of Special Branch, Assistant Chief Constable and finally Chief Constable.
Ironically, as Inspectorate of Constabularies, Flanagan is currently tasked with overseeing the conduct of Britain's entire police force. He was recently knighted by the British monarchy.