7 August 2008 Edition
Unfurling the national flag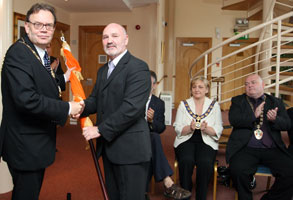 Sinn Féin President GERRY ADAMS delivered a keynote speech at the unfurling of the Tricolour in the office of Belfast Mayor Tom Hartley on 5 August. We carry here an edited version of his address.
Fáilte mór roimh achan duine go dtí an ócáid spéisialtá agus tábhachtach seo i bpárlús na hArd Mheara Béal Feirste, Tomás Ó Hartaile.
I want to welcome all of you here to this very special event.
This morning we again place our national flag in the office of Belfast's First Citizen, Mayor Tom Hartley.
Alex Maskey who was mayor of this city in 2002, and was the first Sinn Féin mayor to place the flag in the mayor s private office, has this morning passed that responsibility on.
I want to extend a céad mile fáilte to those republican activists who, over many generations and through many difficult and dangerous times, kept the republican flame alive in this city.
Sinn Féin is the largest party in Belfast but the presence of Sinn Féin chairpersons and mayors on so many councils across Ulster is a potent reminder of the growth of the party in recent years.
One of the great challenges facing us in the time ahead is utilising that political strength to advance our republican goals and to deliver for those who have placed their confidence and trust in us.
Citizens have the right to and the desire for material benefits and effective political representation. It is our duty is to deliver that.
At a time of great change in our society, as well as increasing economic difficulties, our focus has to be on improving the living conditions for citizens, on building prosperity and equality while advancing toward national freedom.
Is é Béal Feirste áit bhreithe an Phoblachtánachais agus is é an cathair seo cliabháin na hideolaíochta sin go fóill.
Belfast is the birthplace of Irish republicanism.
It was here, just over 200 years ago, that Irish republicanism took shape.
And in particular it was the notion of the Republic – a state in which the people are sovereign – which attracted the interest of a radical group of Belfast Presbyterians.
At that time, Belfast citizens, mainly Irish Presbyterians, fired by the example of the American Revolution and of the French Revolution, rallied to the aid of their Catholic neighbours seeking redress from discrimination and injustice.
They embraced the concept of Irish independence and freedom from Britain and formed the Society of United Irishmen.
It is from these roots – as well as from the ideals and writing of people like Fintan Lalor and Michael Davitt and Pádraig Pearse and James Connolly, Bobby Sands, Mairéad Farrell,  and many others, including those of this generation of republicans – that modern Irish republicanism draws its core political values.  
Tá Sinn Féin ag obair don todhcaí, tá sé mar aidhm again comhionnanas a chinntiú d'achan duine anseo i mBéal Feirste agus ar fud na hÉireann.

Sinn Féin is planning for the future and we are determined to deliver a better future for all our people based on equality.
Sinn Féin believes in building strong communities, in working in partnership with communities, in making it possible for communities to protect and care for the weak, the vulnerable and the aged.
We are about empowering people.
Tá muidne ag cuir chun chinn ár bpolasaithe dearfacha i dtaca leis an ecnamaíochta, an choráis sláinte, oideachais, an timpeallacht agus achan rud a bhfuil tionchar acu ar an gnáth saol.
We are about promoting our positive republican policies: on the economy, on health, on education, on the environment, on all of those many matters that impact on peoples' daily lives – policies which are aimed at eradicating poverty and discrimination, and promoting equality.
We have to seek to implement these in every way we can and through every public body, agency and institution we are a part of.  We also need to be actively campaigning outside these institutions in support of these necessary changes in our society.
A crucial part of our work is the need for us to develop an entirely new relationship with unionism. Irish republicans believe in a united Ireland.  We believe it is in the best interests of all the people who live on this island that British Government interference and jurisdiction are ended.
Unionists have a different view, a different opinion. The challenge for us is to persuade them of the value of the republican and democratic position.
There is an understandable frustration and annoyance, and not just among nationalists and republicans, at the DUP's refusal to engage properly on issues like education, the environment, the Irish language and, of course, policing powers.
Today, the DUP finds itself in a place it never wanted to be – a partnership government in which the checks and balances of the Good Friday Agreement have a DUP minister on an equal status with a Sinn Féin minister in the Joint Office of First and Deputy First Minister. As unionism comes to terms with these realities, its various tendencies seem to be in a process of gradual realignment.
So, progress is slow.
Yesterday, after an unnecessarily long negotiation, the DUP and Sinn Féin set out areas of progress between us on the transfer of policing and justice powers. But there is still work to be done on this, including on the timeframe for transfer.
In my opinion, the vast majority of citizens want transfer to take place. They want the political institutions to work effectively. They want the institutions to be delivering for them on all these matters, as well as on other bread and butter issues like rising energy costs and the crisis in the housing market.
So, part of our job of work in the time ahead is to ensure the institutions do deliver. That means exercising enormous patience while keeping our eye firmly fixed on our political goals as we continue to negotiate with the DUP on all of these issues.
 The Tricolour is our national flag. For Irish republicans it symbolises the unity of nationalist and unionist – the green and orange joined by the white. It is a symbol of equality between the people of this island. It is a symbol of a republic in which citizens are tolerant of each other and of each other's views, opinions or beliefs.
Why should gender or disability, or race or class, or skin colour or creed, or sexual orientation give one group of human beings the right to deny other human beings their full rights and entitlements as citizens?
So, we have a lot of work ahead of us – all part of the jig-saw of activities and strategies which are about building this party, building our electoral support, advancing our republican goals, and building the future.
To succeed we have to take the republican message of hope and change, of progress and equality, to every corner of this island and to every citizen.
Two hundred years ago, the founding fathers and mothers of Irish republicanism had a vision of a new kind of Ireland: sovereign and free, in which the rights of citizens were paramount and equality the bedrock of society.
That's our vision today and we are in a better place than they to deliver that vision.