7 August 2008 Edition
Health cuts in Louth and Meath exposed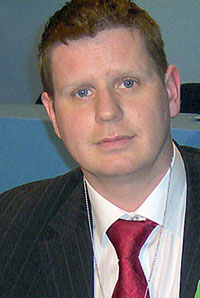 AN INTERNAL Health Service Executive document detailing health service cuts in Louth and Meath has been revealed by Sinn Féin County Councillor Tomás Sharkey. The document highlights cuts that have already taken place over the last few months and others which are planned during 2008.
The document is called Detailed Analysis of Cost Containment. It has sub-headings such as "Containing Patient Activity Growth", "Containing Overtime/Agency Cost", "Value for Money Initiatives" and "Reduction in Non-pay Expenditure".
Tomás Sharkey said:
"This document is clear proof that the Government and the HSE are implementing cutbacks in frontline services. It is a lie that recent and future changes are about reconfiguring, patient safety, and best international practice. They are cruel cuts.
"It clearly shows that last month's decision to remove senior house officers and on-call surgical admissions from Louth County Hospital were designed as a cutback.
"The planned cut would be €184,000 this year. Media spinning from HSE and Government spokespersons tried to pretend that this was only a reconfiguration which actually improved the service to patients! This is now exposed as nonsense.
"They cut a crucial frontline service, increased pain and suffering for patients, and all as part of a cutbacks plan."
He added:
"This comes in the wake of moves to reduce surgical beds in the Louth County Hospital from 32 to 24 but there is an indication in the cutbacks plan that these beds will be open only five days a week and not seven, as was the norm."
DROGHEDA AND NAVAN CUTS
 The detailed document received by Councillor Sharkey also outlines cuts in the hospitals in Drogheda and Navan.
The cuts in Our Lady of Lourdes Hospital, Drogheda, include anaesthetic cover on Saturdays and weekend phlebotomy.
"These are crucial services which help sick and suffering patients," he said. "It is hard to imagine that the Government and HSE are willing to allow such cuts as they affect the sick and vulnerable at the frontline of the health service."
The cutbacks include closing the surgical wards in Navan for 10 weeks this summer and two orthopaedic theatres for four weeks in August and another two weeks in December. "Waiting lists will just get longer as a result of these cutbacks," Tomás Sharkey said.
Councillor Sharkey is furious that these cuts are being planned and that there is little information coming through from the HSE. "Only three days ago I attended a meeting of the Regional Health Forum. We were given no information from officials about these developments.
"It is now time for HSE officials to stop acting as mud flaps for this Government's cruel cuts.
"The staff in the HSE are not to blame for these cuts. They are being forced to implement cutbacks handed down from an uncaring government."