7 August 2008 Edition
Remembering the Past: Fr Michael O'Flanagan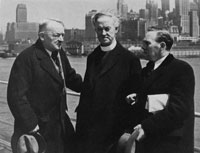 BY MÍCHEÁL Mac DONNCHA
BEST-KNOWN as the clergyman who said the prayer which opened the public session of the First Dáil Éireann in 1919, Fr Michael O'Flanagan was in fact a very significant revolutionary in his own right. His republican and social activism spanned several decades.
Michael O'Flanagan was born near Castlerea in County Roscommon in 1876. His parents were Irish-speakers and the families of both his mother and father were Fenians.
He was educated at the local national school and at Summerhill College, Sligo.
In 1894 he entered Maynooth College to complete his studies for the priesthood. A gifted scholar, he became proficient in a range of subjects, including the Irish language, to which he gave a life-long commitment.
O'Flanagan returned to teach at Summerhill College where he became Professor of Irish in 1900. Active in Conradh na Gaeilge he was an organiser of Feis Shligigh where he met Pádraig Mac Piarais and Douglas Hyde. Recognising his preaching ability, Catholic Church authorities sent him to the United States and to Rome on special assignments. But he was soon to fall out of favour as the hierarchy realised his radicalism. An early indication of that radicalism was O'Flanagan's support for the dockers in the bitter strike in Sligo in 1913, during which scabs were imported from England and a striking docker was killed.
TURF-CUTTING RIGHTS
Cliffoney, on the coast of County Sligo, became Fr O'Flanagan's parish in 1914. O'Flanagan identified closely with the small farming community and understood the dire need for land redistribution and other measures to combat rural poverty. In 1915, he took a leading role in a campaign for turf-cutting rights on bogs controlled by the Congested Districts Board. In the same year, he was involved in the organisation of the funeral of veteran Fenian O'Donovan Rossa in Dublin. He delivered an address at Rossa's lying in state in Dublin City Hall.
In October 1915, annoyed at O'Flanagan's radical activism, Bishop Coyne ordered his transfer from Cliffoney. In protest, the parishioners barred the doors of the church to O'Flanagan's successor and the church was not reopened until Christmas Day.
O'Flanagan was moved to Crossna, near Boyle, County Roscommon, but he was far from silenced. He continued to call for land reform and to oppose Ireland's forced participation in the First World War.
He was not involved in the Easter Rising but in the aftermath he became one of the key figures in the resurgent Republican Movement. He was the main organiser of Count Plunkett's by-election campaign in north Roscommon. This was the first of three by-election victories for Sinn Féin in 1917. In October of that year, O'Flanagan was elected vice-president of Sinn Féin.
Speaking during the East Cavan by-election campaign of May 1918, O'Flanagan denounced the war-mongers who had led millions to their deaths: "Those royal cousins who rule England and Germany will come together and clink their champagne glasses over the graves of millions of the flower of the manhood of Germany and England." After this speech, Bishop Coyne banned O'Flanagan from saying Mass in public or administering the sacraments.
OPPOSED FRANCO
O'Flanagan's leadership was pivotal in Sinn Féin's general election victory of 1918 and he campaigned throughout the country. He was especially popular in the West of Ireland and after the establishment of the First Dáil he was involved with the republican courts and the Dáil's land policy.
Michael O'Flanagan opposed the Treaty of 1921. He worked for the republican cause in America and Australia from which he was deported. He remained with Sinn Féin after the departure of de Valera in 1926 and served as president of the organisation from 1933 to 1935. Sinn Féin was then in an ultra-abstentionist phase and O'Flanagan was expelled in 1936 because he participated, with members of other political parties, in a radio broadcast commemorating the First Dáil.
O'Flanagan supported the Spanish Republic in its fight against Franco fascism from 1936 to 1939, in contrast to the pro-Franco Catholic hierarchy. He toured the USA seeking support for the Spanish Republic.
He remained a diligent scholar throughout his life and wrote a series of county histories for the Department of Education.
Fr Michael O'Flanagan died in Dublin on 7 August 1942, 66 years ago this week.
• Further reading: Denis Carroll They Have Fooled You Again, Columba Press (1993).