31 July 2008 Edition
Older people being punished by health cuts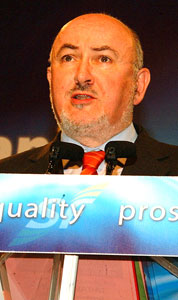 SINN FÉIN Health and Children Spokesperson Caoimhghín Ó Caoláin TD has described as "a total sham" the Irish Government's claimed commitment to improved care for older people after a survey has shown that Health Services Executive (HSE) cuts are adversely affecting home help and home care packages.
"The survey by the Irish Association of Social Workers and Age Action shows clearly that older people are being punished by the health cuts imposed by the Government through the HSE. The Government's claimed commitment to improved care for older people is proving to be a total sham as cuts hit services throughout the 26 Counties", Ó Caoláin said.
"Home help is not available for new applicants in most areas in the survey. Most parts of the State have lengthy waiting lists and home help hours have been cut in a number of areas. In seven areas, including my own constituency of Cavan-Monaghan, the HSE embargo on recruitment has affected the provision of home helps.
"Health Minister Harney and her Government colleagues have made much of their provision of home care packages for the elderly. The survey shows that no funding was available for new home care packages in eight of the 20 areas surveyed.
"These cuts represent a totally false economy as they mean that older people will stay longer as in-patients in our acute hospitals or will be forced to seek expensive nursing home care. Above all the cuts represent a betrayal of our older citizens who were promised State support to remain living in their own homes", he said.