31 July 2008 Edition
Further harassment of Kilmore Quay fishermen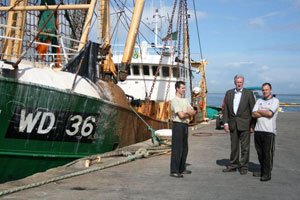 TWO more vessels at Kilmore Quay, County Wexford belonging to the O'Flaherty brothers found themselves in further strife with the Sea Fisheries Protection Agency (SFPA), this week.
Last week the Emer Jane, belonging to the O'Flahertys was detained at Kilmore Quay after a naval vessel reportedly threatened to fire across its bows.
This week, having faxed ahead, as per regulations, that the two vessels would be coming in to Kilmore Quay, the Willie docked at around three in the morning. On landing SFPA inspectors boarded and the vessel was found to be 20 boxes over the EU-imposed quota.
Local Sinn Féin Councillor Maurice Roche, who has been supporting the fishermen, was contacted after the Maarten Luther had landed her catch and he discussed the situation with Skipper Mark Cullen.
Cullen explained: "This comes from a background of having been tied up for seven weeks. I have been out 13 days this month and my quota was covered by the eighth day.
"Last month I had a quota of two and a half tonnes, and wasn't out at all; this month my quota was reduced to two tonnes.  This is totally inadequate, and what has happened to last month's quota?  That just disappears."
The SFPA arrested Mark Cullen, and Gardaí boarded and took his log book and license.
 "I will not throw dead fish into the sea!"  Cullen said.  "That is immoral and indefensible and I cannot in all conscience do that."
The other skipper involved, Mark Fethersonhaugh of the Maarten Luther who had gone to sleep on board for the night said he was woken by SFPA inspectors who told him that he was landing fish in an undesignated port, under the Monkfish Scheme, despite Danny O'Flaherty being told he could do so.
When the catch was brought in for landing at about 12.30, a crowd of locals had gathered to support the fishermen.  Amid shouts of protest, inspectors gained entry to the vessel and were in discussion with the Skipper when the Gardaí advised them to leave as the protesters were very angry.
 "We have nothing to hide.  This is harassment of the highest order and we cannot tolerate it.  We are being criminalised for no good reason; we cannot afford to live and we are at the end of our tether", Mark Cullen said.
One of the owners of the vessels, Michael O'Flaherty said he would "not force my skippers to dump dead fish into the sea.  It is criminal and it is immoral.  While we throw dead fish into the water, planes and ships are importing the same sort of fish back into the country.  It just doesn't make sense."
O'Flaherty said the support the fishermen were receiving was heartening and was giving them the morale they badly need in bleak times for the industry.