31 July 2008 Edition
Fifth Column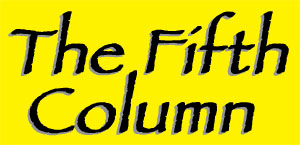 Orange hero in the pink
GAY RIGHTS activist Peter Tatchell's resurrection of reports that loyalist icon King William was bisexual has caused a bit of a stir in unionist ranks.
The ever-controversial Tatchell was in Belfast to give the Amnesty International Pride Lecture during the city's week-long Gay Pride Festival when he brought up King Billy's reported favouritism for his male lieutenants.
Although he was married, throughout the 1690s, many satirical publications mocked William's lack of mistresses (most unusual for kings and princes) and openly referred to his closeness to Dutch male courtiers whom he granted English titles. The original Billy Boys, so to speak.
Pointing to Strangford DUP MP Iris Robinson's outburst on Radio Ulster after a vicious attack on a gay man in Belfast that homosexuality is "an abomination" and, at a House of Commons committee, where she is on the record as likening child abuse to homosexuality, Peter Tatchell said:
"It is particularly hypocritical for unionist politicians to play the homophobic card when their hero, William of Orange, had male lovers."
A DUP spokesperson accused the gay rights campaigner of setting out to antagonise unionists.
"This is the kind of deliberately offensive and provocative comment and shock tactics that he has used in the past."
Not like the DUP, eh?


Spanking time for Max Mosley
FORMULA 1 racing authority boss Max Mosley's privacy victory over the News of the World in the London High Court involved some other unsavoury characters apart from Mr Whippy himself and the five dominatrixes paid £500 apiece to literally give him a lash.
The News of the World not only violated Max's privacy but claimed that the bondage sessions had a Nazi concentration camp theme, even more damaging for the 68-year-old son of the wartime British fascist leader, Sir Oswald Mosley (Adolf Hitler was a guest of honour at Oswald's 1936 wedding).
Even though he gave the Screws of the World a legal caning (costing the paper half a million pounds in damages and legal costs), many motor racing moguls are insisting he has to stand down from his position as president of the FIA (Federation Internationale de l'Automobile) because of his leather-clad laps in the pits.
Max is an old hand at S&M, having been at it for 45 years. Whatever about his fetishes in the privacy of his own dungeon (and doesn't the NoW believe an Englishman's home is his castle – dungeons included?), it seems that Max Mosley wanted to make Formula 1 racing safer and cleaner.
The one-time racing driver has been credited with forcing the sport to pump millions into radical safety improvements to save driver's lives and was behind the $100 million fine slapped on McClaren after one of their team was found with a bundle of secret documents belonging to rivals Ferrari stuffed up his jumper.
Mr Mosley (who is not short of a few bob himself, of course) is said to have been pushing for the FIA motor racing authority to be given the power to impose even harsher penalties on the mega-rich playboys behind F1's dodgy dealings. One of his fiercest opponents is former race ace Sir Jackie Stewart, a "long-standing friend" of Richard Dearlove, ex-head of MI6.
And who was the man who dropped the dime on the F1 chief in the first place? The husband of one of the dominatrixes having the whip-round with Max – who just happens to have been a serving surveillance officer in MI5.
Spooky coincidence or what?


SAS scammer goes free
A BRITISH ARMY sergeant who hid $200,000 in a flower pot at his home while he was stationed in Ballykelly, County Antrim, has been cleared of stealing £100,000 from the SAS.
Staff Sergeant Mark McKay (35), of the Adjutant General's Corps, was found not guilty of stealing $200,000 from a cash office at the Hereford HQ of 22 SAS where he was on attachment in February 2003 during the Second Gulf War.
At a week-long court martial at Bulford military court in Wiltshire last week, McKay claimed he made the sum legitimately by running his own privately-funded tuck shop, selling alcohol, toiletries and Viagra to the 5,300 occupation troops at his base in the Gulf.
Breaking down as he gave evidence, 'Del Boy' said he felt "ashamed" at having made so much money out of his comrades in arms. He must be crying all the way to the bank.


Challenging TV
BEING the 'silly season' of summer and most of our usual suspects on holiday or otherwise in hiding, I'm grateful to Mitchel McLaughlin's media maestro, Dominic Doherty, for relaying these gems culled from TV programmes.
The Weakest Link, BBC2
Anne Robinson: Oscar Wilde, Adolf Hitler and Jeffrey Archer have all written books about their experiences in what? Prison or the Conservative Party?
Contestant: The Conservative Party.
University Challenge, BBC2
Jeremy Paxman: What is another name for 'cherry pickers' and 'cheesemongers'?
Contestant: Homosexuals.
Paxman: No. They're regiments in the British Army who will be very  upset with you.

An Phoblacht Magazine
AN PHOBLACHT MAGAZINE:
Don't miss your chance to get the second edition of the 2019 magazine, published to coincide with Easter Week
This special edition which focuses on Irish Unity, features articles by Pearse Doherty, Dr Thomas Paul and Martina Anderson.
Pearse sets out the argument for an United Ireland Economy whilst Pat Sheehan makes the case for a universally free all-island health service.
Other articles include, 'Ceist teanga in Éirinn Aontaithe', 'Getting to a new Ireland' and 'Ireland 1918-22: The people's revolution'.