31 July 2008 Edition
Ferris hears concerns in Galway and Mayo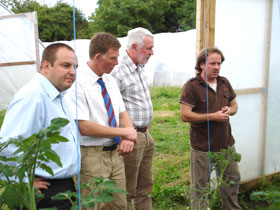 THE WEST'S AWAKE

BY CAOILFHIONN Ní DHONNABHÁIN

THE Sinn Féin campaign to regenerate community and commercial life on Ireland's western seaboard, 'The West's Awake', continued its momentum last week with Sinn Féin Agriculture spokesperson Martin Ferris travelling to Galway and Mayo.
Ferris is attempting to engage with as many groups and individuals as possible across the west to inform the report he is preparing for the Oireachtas Committee on Agriculture, Fisheries and Food on what is needed to ensure the viability of farming and fishing in the West.
Ferris said the input from people on the ground across the region is crucial if the report is to be of practical use and is to put forward solutions that are responsive to the needs of the farming and fishing communities in the region.
On Wednesday, Ferris was in east Galway to meet with a number of people involved in the agriculture sector. Sinn Féin's local representative, Galway County Councillor Dermot Connolly, himself a farmer, arranged for Ferris to meet with the management of Ballinasloe Mart, with Beechlawn Organic Farm Producers, and with the Irish Farmers' Association leadership in Galway. Ferris and Connolly were accompanied by Sinn Féin Councillor Pádraig Mac Lochlainn from Donegal.
The management of Ballinasloe Mart spoke to the Sinn Féin representatives about the pressures they are facing. Water charges and rising electricity prices have pushed up operating costs. The situation is aggravated by a decreased volume in livestock going through the mart. Low sheep prices have meant a slowdown in the number of sheep being sold and this is having a significant impact on the mart.
Ferris, Connolly and Mac Lochlainn then visited Beechlawn Organic Farm in Ballinasloe, run by husband and wife Pádraig Fahy and Una Ní Bhroin.
Beechlawn Organic Farm grows a wide range of organic produce and delivers its own farm produce and other Irish-sourced and imported organic produce direct to homes and weekly farmers' markets in Oranmore, Loughrea, Ballinasloe and Athlone.
Fahy served as chairperson of the Irish Organic Farmers' and Growers' Association's board of directors from 2005 to 2007. The organic sector has been pointed to as a potential future growth area for farming in the West and Ferris wanted to hear from producers regarding their needs and the challenges they face.
Following a tour of the farm, Fahy and a number of other organic producers raised specific issues and difficulties, in particular obstacles from local government, that impede the development of farmers' markets.
The last meeting on Wednesday evening was with Michael Silke, leas cathaoirleach of Connacht Irish Farmers' Association (IFA); Barry Donnelly, cathaoirleach, Galway IFA; and Michael Kelly, cathaoirleach of Galway IFA Animal Health Committee.
The IFA representatives, unsurprisingly, raised the World Trade Organisation talks with Sinn Féin. There is a very genuine fear amongst farming representatives that the outcome of the WTO talks will be detrimental to farming in Ireland. As those talks continue, Ferris has again called on the Irish Government to ensure that farming is not sacrificed in order to secure a trade deal at the WTO negotiations in Geneva. Ferris said:
"It is vital that the Irish Government does all in its power to ensure that agriculture is not made the sacrificial lamb to secure a last-minute deal.
"Food security, consumer safety and the livelihoods of those involved in all aspects of farming and the food industry demand that the European model of farming is not effectively dismantled in order to allow access by European businesses to third country markets.
"The Government assured us during the Lisbon campaign that it would invoke a veto should any deal of that nature be proposed. It is vital therefore that should such a threat emerge Tánaiste and Trade Minister Mary Coughlan make it known in no uncertain terms that it is not acceptable. The fact that the Irish people rejected the treaty of course means that the veto is still in place."
The IFA also spoke about the impact of water charges and how they are being applied on their members. Also discussed were issues related to sheep farming and regulations affecting farmers including the restrictions on traditional turf cutting rights.
On Thursday, Ferris travelled to Belmullet in County Mayo to participate in a series of meetings organised by local Sinn Féin representative Rose Conway Walsh.
Ferris met with Erris Inshore fishermen where he listened to their concerns regarding the Corrib gas development and impact that discharges into the bay from the development would have on their livelihoods.
This was followed by a meeting with Tom Fadian, a representative of the Mayo IFA Hill Committee, who raised a number of issues about commonage in hill areas.
Ferris later visited the largest employer in Belmullet, SELC Intelligent Lighting, and met with CEO John Gorman. SELC has been in Belmullet for 26 years, employs 50 people and exports worldwide. The importance of enterprises such as this in rural areas, according to Ferris, cannot be under-estimated. The report that Ferris is producing for the Agriculture Committee will look at the issue of off-farm incomes and its role in ensuring the viability of rural communities in the West.
During his time in Mayo, Martin Ferris also met with representatives of Pobail Chill Chomáin, which is supporting proposals for the relocation of the Shell terminal to an alternative site, and with representatives of Shell to Sea which is continuing to pursue the demand that the terminal be located out to sea. The Sinn Féin TD also visited Glengad, where the gas pipe is due to come ashore.
The day in Mayo concluded with Ferris addressing a meeting of local party activists.
This week, Martin Ferris will be in Sligo, Leitrim and Roscommon.
ENLIGHTENING: Mac Lochlainn and Ferris with John Gorman, CEO of SELC Intelligent Lighting, the largest employer in Belmullet, and Rose Conway Walsh of Mayo Sinn Féin