31 July 2008 Edition
No return to unionist majority rule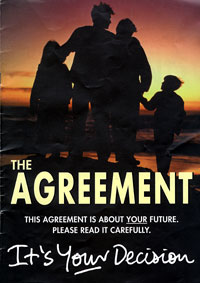 Ten years ago the Good Friday Agreement put in place a unique set of political arrangements designed to reflect the unique political circumstances of the Six Counties.
Both the Dublin and the British Governments ratified the Good Friday Agreement as an internationally binding treaty, thus endorsing the structures of government the parties signed up to.
When the Democratic Unionist Party belatedly came on board after the 2006 St Andrew's talks, Ian Paisley's party effectively agreed to work alongside Sinn Féin in operating the Assembly, Executive and the all-Ireland institutions.
Recent weeks have seen the DUP commit to intensive political talks to resolve outstanding matters. To date these talks have not made the desired progress. Issues like the transfer of powers over Policing and Justice from London to the Six Counties and Irish language rights remain unresolved.
For Irish republicans, the current political phase must be about defending the Good Friday Agreement and the political institutions from unionist attack.
Some DUP spokespersons decry the idea of partnership government, calling for the end to what they term 'mandatory coalition'. What actually lies behind this political red herring is the yearning for a return to majoritarian unionist rule.
From the foundation of the Six County state, unionist majority rule in the Six Counties privileged unionism while excluding the political, cultural and social rights of nationalists. That unjust system of government lead to 40 years of conflict.
The mood in some quarters in the DUP that there can be a return to one-party rule is one that needs to be scotched. It must urgently be replaced with the realisation that the only way in which political progress can be made is through real partnership government.
There will be no return to unionist majority rule in the North of Ireland. Those days are gone forever. The sooner unionist politicians wake up to that fact and provide positive political leadership to the unionist electorate, the better for all concerned.