31 July 2008 Edition
Anger at PSNI stance on loyalist weapons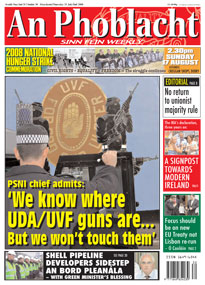 Senior officer says police know where UDA/UVF guns are
THE PSNI admission this week that it knows the location of unionist paramilitary weapons dumps is no surprise considering the involvement of police in the Six Counties with loyalist killer gangs over the years, according to Sinn Féin's Alex Maskey.
Maskey was responding to comments by PSNI Assistant Chief Constable Peter Sheridan in the Belfast-based Irish News on Tuesday claiming that the PSNI knows where loyalist weapons are stored.
Sheridan's controversial comments came on the same day that news emerged of talks between unionist paramilitaries and the British Government in relation to the issue of the decommissioning of unionist paramilitary weapons.
It was reported on Tuesday that representatives of the Ulster Defence Association (UDA) met with PSNI Chief Constable Hugh Orde and British Security Minister Paul Goggins.
Following years of blatant refusal by unionist politicians, loyalist armed organisations and indeed the British Government to take any action on the issue of the huge weapons stockpile in the hands of unionist paramilitaries, an NIO spokesperson said:
"We can confirm that the minister had a private meeting with the Ulster Political Research Group (UPRG) and other leading loyalists."
A PSNI spokesman said: "We can confirm the Security Minister held a meeting with the UPRG and other leading loyalists which the chief constable was invited to attend."
The UDA is a vicious sectarian organisation responsible for the murders of hundreds of nationalists during the course of the recent conflict. Over the years it has become increasingly evident that groups such as the UDA were controlled and directed by the British state, its military and intelligence agencies to serve British state interests. This policy included the deliberate assassination of selected members of the nationalist community and random sectarian murder to instil terror within the wider nationalist population.
Speaking to the Irish News, PSNI Assistant Chief Constable Peter Sheridan said the PSNI has the intelligence to lead its officers directly to weaponry once what the paper called "the window of opportunity for loyalists to comply with decommissioning has closed".
Sheridan's remarks immediately begged the question as to why, if the PSNI has such information, it has refused thus far to act. The weapons of unionist paramilitaries which have been used against people both within the nationalist and unionist communities in very recent times continue to pose a major threat, particularly to nationalists in the North.

Reacting to Sheridan's admission, Sinn Féin Policing spokesperson Alex Maskey said:
"There is a long history of policing in the North at best turning a blind eye to the activities of loyalist gangs and in many cases controlling and directing them. Given this reality it may not come as much of a surprise the admission by Peter Sheridan that the PSNI know the location of loyalist arms dumps.
"However, what is unacceptable and quite shocking is his attitude to going and recovering these weapons."
The existence of the official decommissioning body is no barrier to the PSNI recovering loyalist weaponry, Maskey said.
"It is the function of the PSNI to recover these guns. The purpose of these weapons is to attack Catholics and protect organised crime rackets. Indeed, last year in Carrickfergus, these very weapons were used to attack the PSNI.
"Many people from across society will be angered by the comments made by Mr Sheridan and the position adopted by the PSNI in recovering loyalist weapons. To most people it is very simple – if you know where these weapons are then go and get them."