24 July 2008 Edition
Robinson's homophobic comments spark protest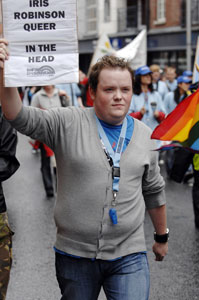 By Laura Friel
HOMOPHOBIC remarks by Iris Robinson sparked a protest in Belfast City centre on Monday of this week after the DUP MLA described homosexuality as "vile" and equated homosexuals with paedophiles.
Gay rights protestors denounced Robinson's remarks and called on the DUP politician to end her attacks on Gay and Lesbian people.
"As a politician, she has a very poor judgement and her suitability as a public representative must now be called into question," said protestor Steven Colhoun.
Speaking during an Assembly committee meeting addressing the issue of paedophilia, Iris Robinson announced, "There can be no viler act, apart from homosexuality, than sexually abusing innocent children".
The MLA's remarks came to light after they were reported in the Assembly's official record, Hansard. In a statement Iris Robinson rejected the comments attributed to her in Hansard after they were reported in a newspaper.
"What I clearly intended to say was that child abuse was worse than homosexuality and sodomy," said Robinson apparently oblivious to the fact that to equate homosexuality in any way to paedophilia was just as inappropriate and insulting.
During a media interview Robinson attempted to address criticism of her earlier remarks by calling homosexuality "comparable" to sexual abuse "in terms of abhorrence".
"I cannot think of anything more sickening than a child being abused. It is comparable to the act of homosexuality," said Iris Robinson.
Speaking last week after Robinson claimed on radio that government must "uphold God's law", Sinn Féin MLA John O'Dowd said the comments this were "ill advised" and "showed a great deal of poor judgement on her part in light of other outrageous comments she has made in recent months regarding homosexual people. The role of Government is to serve the people who elect it, Christian's and non-Christians alike.
"As we face the impending economic challenges, MLA's must focus their attention on that and not side issues such as this.
"Sinn Féin respects the rights of Christians as well as other denominations and those with no religious beliefs at all to hold those views, but when it comes to the business of government we must collectively be responsible and deal with the issues and beliefs held by and dear to all our people not one particular section" he said.
Often dismissed as off-the-wall comments, homophobic remarks by Iris Robinson are usually framed in terms of her personal religious belief and an exercise in freedom of speech.
But the timing and frequency of her remarks have led some to identify homophobia as an emerging political agenda within the DUP.
Of course as First Minister, her husband Peter is bound by human rights and equality legislation which challenges all forms of intolerance and discrimination. But Peter Robinson, by choosing neither to condemn nor distance himself from his wife's homophobic remarks, is emerging as a silent partner.
Fundamentalist religious notions have often informed the political agenda of the DUP. In the past the leadership of the DUP have espoused extremist positions such as identifying the Pope as the anti-Christ.  
The DUP struggles with notions of equality and toleration of difference and that's as true in relation to recognition of the rights of Irish speakers as it is to recognition of the rights of Gay and Lesbian people.
On Tuesday, Sinn Féin's Foyle MLA Martina Anderson questioned the intentions of DUP MLA Iris Robinson in her latest attack against the gay community.
"Iris Robinson's comments come on the back of several ill advised and poorly judge statements from a woman who is not only the wife of the First Minister but the chairperson of the Assembly Health Committee. Surely she realises the effects that these comments have on the gay community, a vulnerable community which already suffers an intolerable degree of discrimination and attack. Her words undermine the sterling work of groups such as the rainbow project who were recently hosted in the Long Gallery Stormont", Anderson said.
"I accept that she has since retracted her words, but what we need to see now is a change in her attitude and an acceptance of the fact that these words and statements are deeply, deeply offensive and hurtful to members of the gay community and their families", she said.