24 July 2008 Edition
Green Ministers urged to suspend Shell operation as Corduff arrested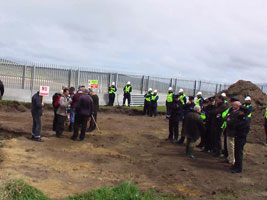 TWELVE people, including 2007 Goldman Environment Prize winner Willie Corduff of the Rossport Five were arrested on Tuesday, 22 July during a peaceful protest against Shell contractors working at the landfall site at Glengad.
The arrested people were taken to Belmullet Garda Station.
Protestors have claimed that Shell has no permission for the work  being carried out at Glengad, since planning permission has not been granted for the proposed onshore section of its gas production pipeline.
North Mayo community group, Pobal Chill Chomáin, has called on two Green Party Government Ministers to suspend all civil engineering works by Shell E&P Ireland in the Pollathomas and Glengad coastal area until a "rigorous geological survey and examination" is conducted.
The group issued the request last evening to Minister for Energy Eamon Ryan and Minister for the Environment John Gormley. The community group was formed several months ago to back a compromise location for the Corrib gas refinery.
released
Its statement followed the arrest of 12 people at Glengad during a protest on Tuesday. The protestors were questioned and later released without charge according to the Gardaí in Belmullet.
Gardaí are also investigating a complaint about video footage taken by Shell security personnel located at Glengad. A local Parish Priest has accused Shell of engaging in surveillance operations amounting to intimidation and harassment.
The parish priest of Kilcommon, Fr Michael Nallen, alleged that his parishioners were "prisoners in their own area", and that the registration of his car had been noted. He said he believed he had been photographed by security officials at Ballyglass Harbour.
Fr Nallen said that since the arrival of a Shell marine platform in Broadhaven Bay last May, he believed that security personnel at Ballyglass pier were inspecting cars and noting registrations" even though it was a public area.