24 July 2008 Edition
Sarkozy Visit : Adams tells EU President there can be no Lisbon re-run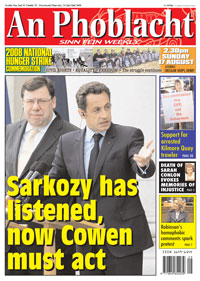 Sarkozy has listened, now Cowen must act – Adams
SINN FÉIN President Gerry Adams described Monday's meeting with EU President Nicolas Sarkozy as useful saying that while the process of setting up the meeting was imperfect it was worth noting that Sarkozy "did what the Irish Government has failed to, he has met with and listened to those who campaigned against the Lisbon Treaty."
Speaking directly after a round table meeting at the French Embassy between Sarkozy and Irish campaigners for and against the Lisbon treaty, Gerry Adams said:
"A number of key issues were touched on during the meeting. I noted to the EU President that the reasons behind the 'No' vote were not as complex as he and others have suggested. The Irish electorate were deeply concerned with issues such as democracy, Ireland's loss of power within the EU, neutrality and militarisation, workers' rights and public services. Indeed these same concerns are shared by many across the European Union.
"I told Mr. Sarkozy that there can be no re-running of the Lisbon Treaty. The Irish people have rejected the Treaty by a clear majority and by the EU's own rules it cannot proceed without the ratification of all member states. The Lisbon Treaty is finished therefore negotiations for a new Treaty must begin.
"Sinn Féin had sought a one to one meeting with President Sarkozy during his visit to outline in detail our proposals following the Irish people's rejection of the Treaty. Whilst we were not afforded the opportunity to do so on this occasion we will continue to pursue our request.
"During the meeting I presented to the EU President Sinn Féin's A Better Deal is Possible document which outlines in details our proposals of what a new Treaty deal must contain.
"I concluded by noting the legitimacy of the EU project will come into question unless the views expressed by the Irish people and shared by many throughout the union are listened to and acted upon."
The French leader sparked outrage last week by reportedly suggesting that Ireland should vote again after the crushing rejection of the treaty in a June 12 referendum.

Reacting to the reports last weekend, Sinn Féin Councillor and Lisbon Campaign Director Pádraig Mac Lochlainn said that Irish people had been  "rightly concerned at the comments attributed to President Sarkozy earlier this week and at attempts by the government to try and play them down rather than meet them head on.
"The Irish government needs to stand up for Irish national interests. The Taoiseach should make it clear to President Sarkozy that there will be no re-run of the Lisbon Treaty. Brian Cowen must set out in unambiguous terms the need for a new treaty.
"There can be no question of the failed Lisbon Treaty being put to the Irish people again. Subtle threats of a two speed Europe or Ireland's isolation within the union are also nonsense. The Lisbon Treaty is finished and cannot proceed without the ratification of all member states. A new treaty negotiation is the only way forward.
"The fact is that under EU law the Lisbon Treaty cannot proceed. And unlike France and the Netherlands a referendum is required in this state, for any new treaty.  The challenge for the Irish government is to go and build support for a better deal and a new treaty.
But during his Irish visit Sarkozy dismissed the reports about the controversial comments allegedly made to members of his own party. "I never said that Ireland had to organise a second referendum," he told a news conference with Taoiseach Brian Cowen.
Sinn Féin was the only Dáil party to campaign against the treaty and at a press conference on Monday prior to his meeting with the French President, Gerry Adams told reporters that since the Irish people roundly rejected the Lisbon Treaty, the government has been given a strong mandate and had not to date used it, "nor have they met with those who campaigned for a 'No' vote.
"Nicholas Sarkozy has the opportunity to play a positive role in the development of the European Union. He can best do this by accepting the need for a new treaty which reflects the concerns of the Irish people and citizens across the EU.
"President Sarkozy's visit also provides an opportunity for the Irish Government to set out the need for a new treaty in clear and unambiguous terms.
Adams said that the space and support for a new treaty clearly exists. He said that if the Government took the lead in building an alliance for a better deal it would reap substantial dividends both in terms of the content of any new treaty and in its standing among the peoples and governments of the EU.
He said that the difficulties involved in building support for a new round of negotiations should not be underestimated.
"Sinn Féin wants to play a constructive role and to assist the Irish Government in what should be a truly national effort. The rejection of the Lisbon Treaty gives the government a strong hand in any future negotiations. The question now is how the Taoiseach will use that hand and whether he has the political will and courage to use it to maximum affect.
When the European Council meets in October Brian Cowen must call for a new round of negotiations and a new treaty. If he does we all take one step closer to a better deal for Ireland, the EU and the developing world."